Sriracha honey Grilled Chicken with stir fry veggies rice noodles (Gluten Free)
When I think of grilled chicken all I could imagine was Tandoori chicken, but now since my taste buds have evolved I wanted to explore and experiment with many different flavours other than just Indian, so I came up with this absolutely gorgeous Asian inspired Sriracha Honey grilled chicken and boy oh boy was I impressed! The spiciness from the sriracha and the sweetness from pure honey is like the best combination.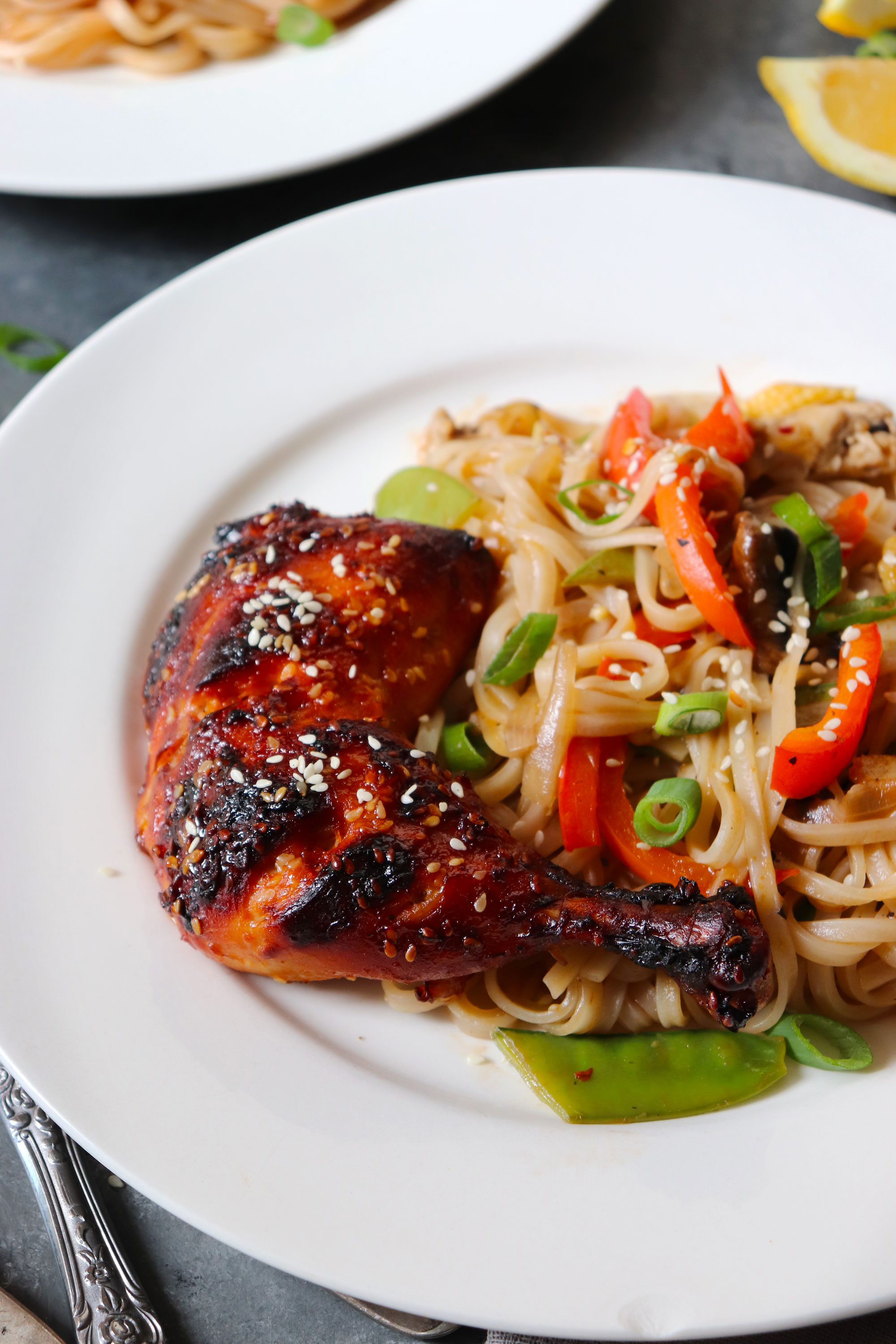 I bought an entire chicken and deskined it, chopped it into desired pieces and prepared this grilled chicken, If someone told me I could butcher a whole chicken I would be like no way! Many times you don't know what you are capable of, it is a proud feeling for me when I can master these little things. :D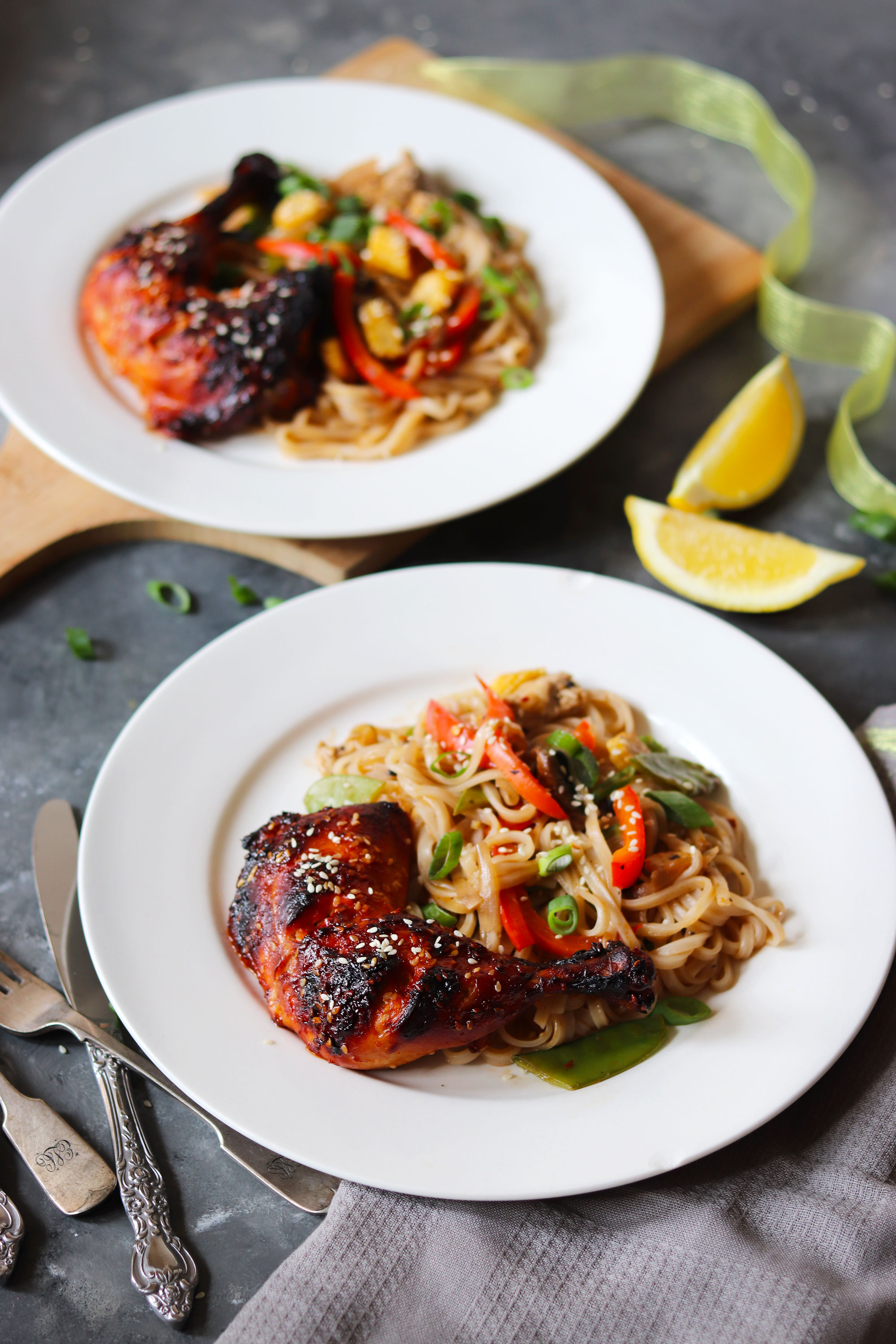 I found a 1.5 kilo whole farm bread Omega 3 chicken for sale in my local supermarket, which actually makes sense to buy a whole chicken and prepare it yourself however you want rather than buying just parts of it, you end up paying more. Use the left over bones to make homemade stock. Nothing goes for waste.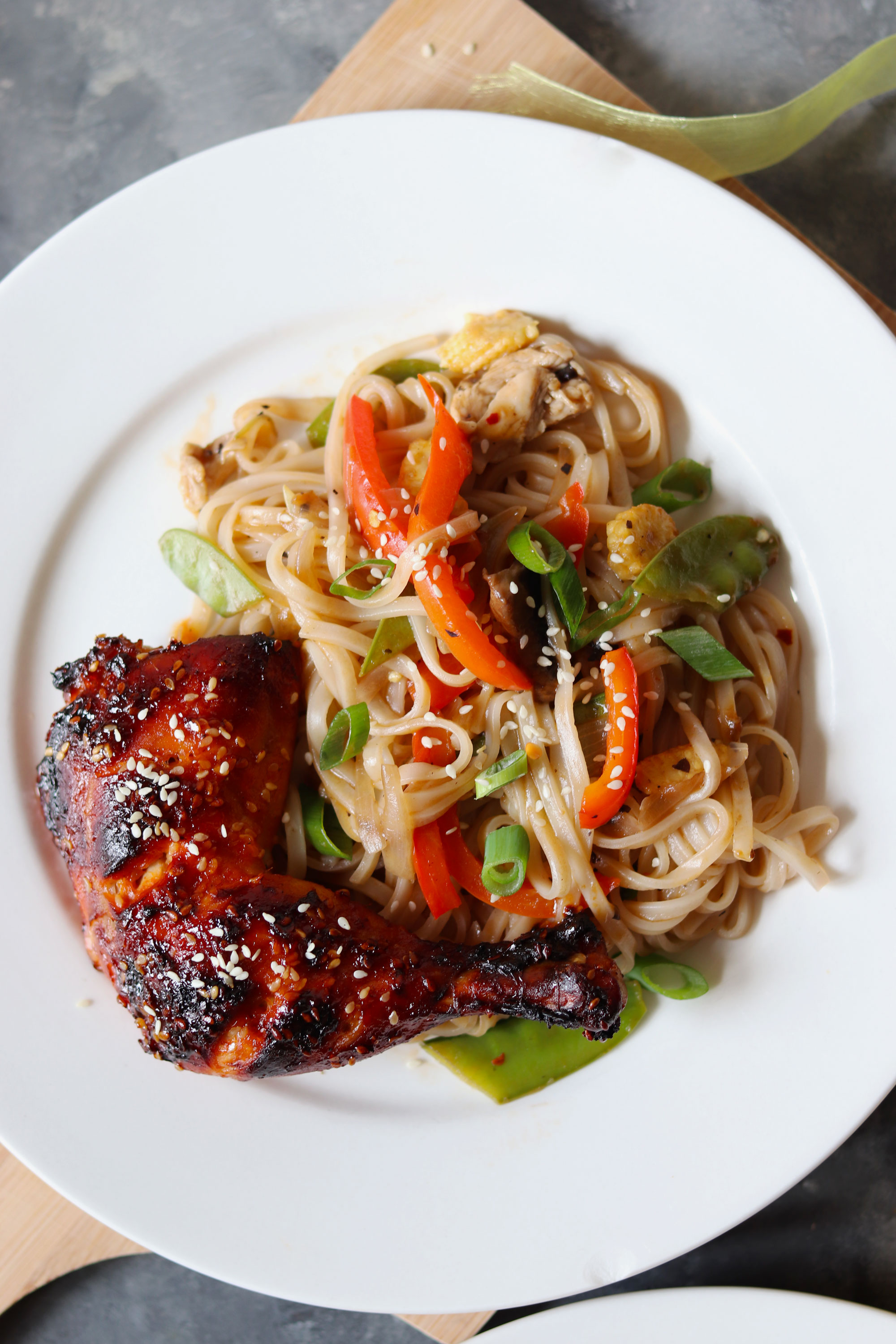 Coming back to this gorgeous chicken, It is best if marinated overnight, so it nicely absorbs all the flavours ans spices, If you cannot even few hours will do, I would suggest minimum of one hour at least. You can use different kinds of pieces like only drumsticks, thighs or mix them both. You can double the quantity of the marinate and the chicken, if preparing for more people. I used the entire leg of the chicken with the thighs. This is not too spicy but you can add more heat if you like with some chilli powder.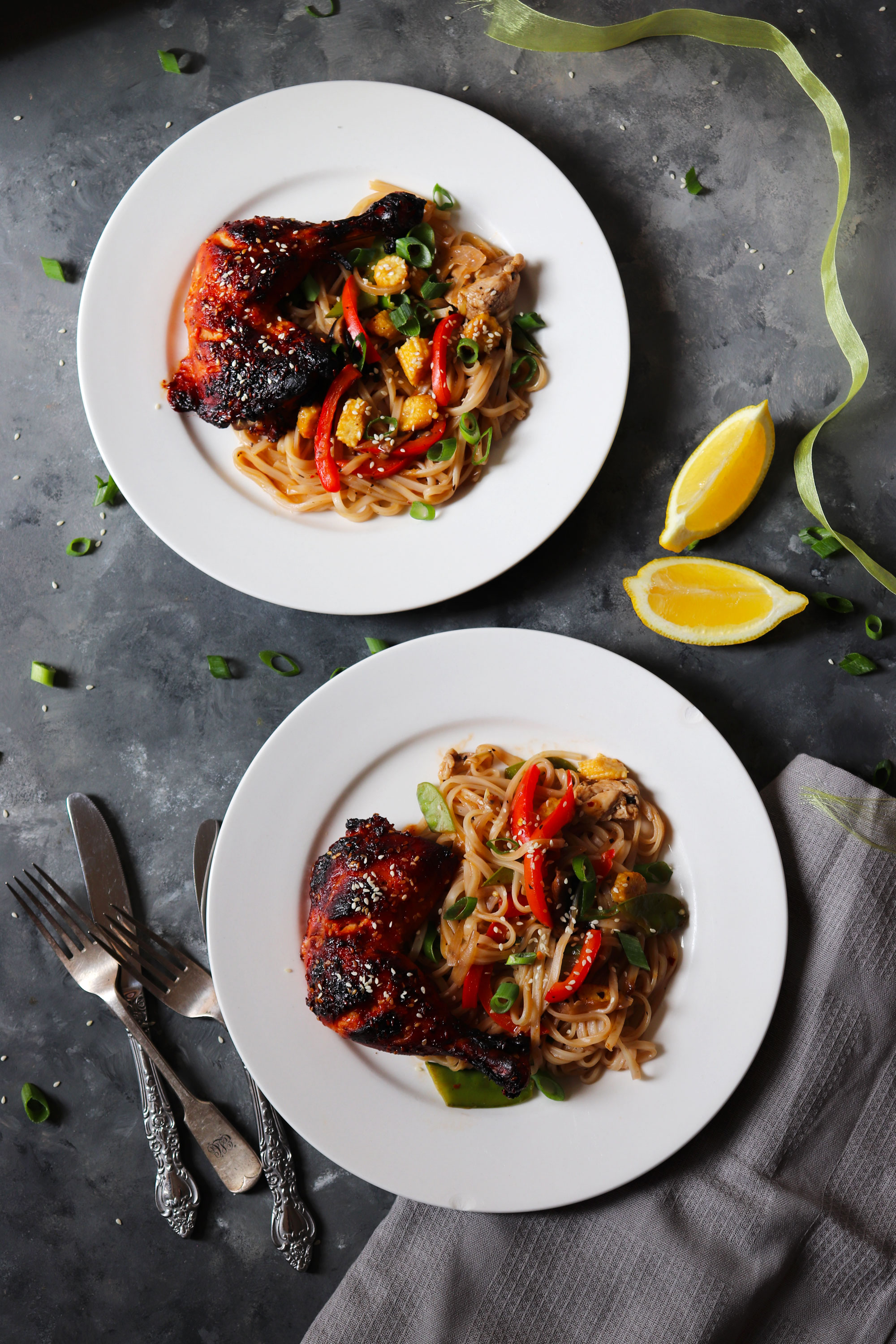 I also made stir fried rice noodles along with it,but you can serve the chicken as a starter if you like, or even with simple egg fried rice, whichever you prefer. I have included the noodles recipe too, I felt it was the perfect match. Reserve some of the marinate aside and use it as a drizzle or a dip while serving.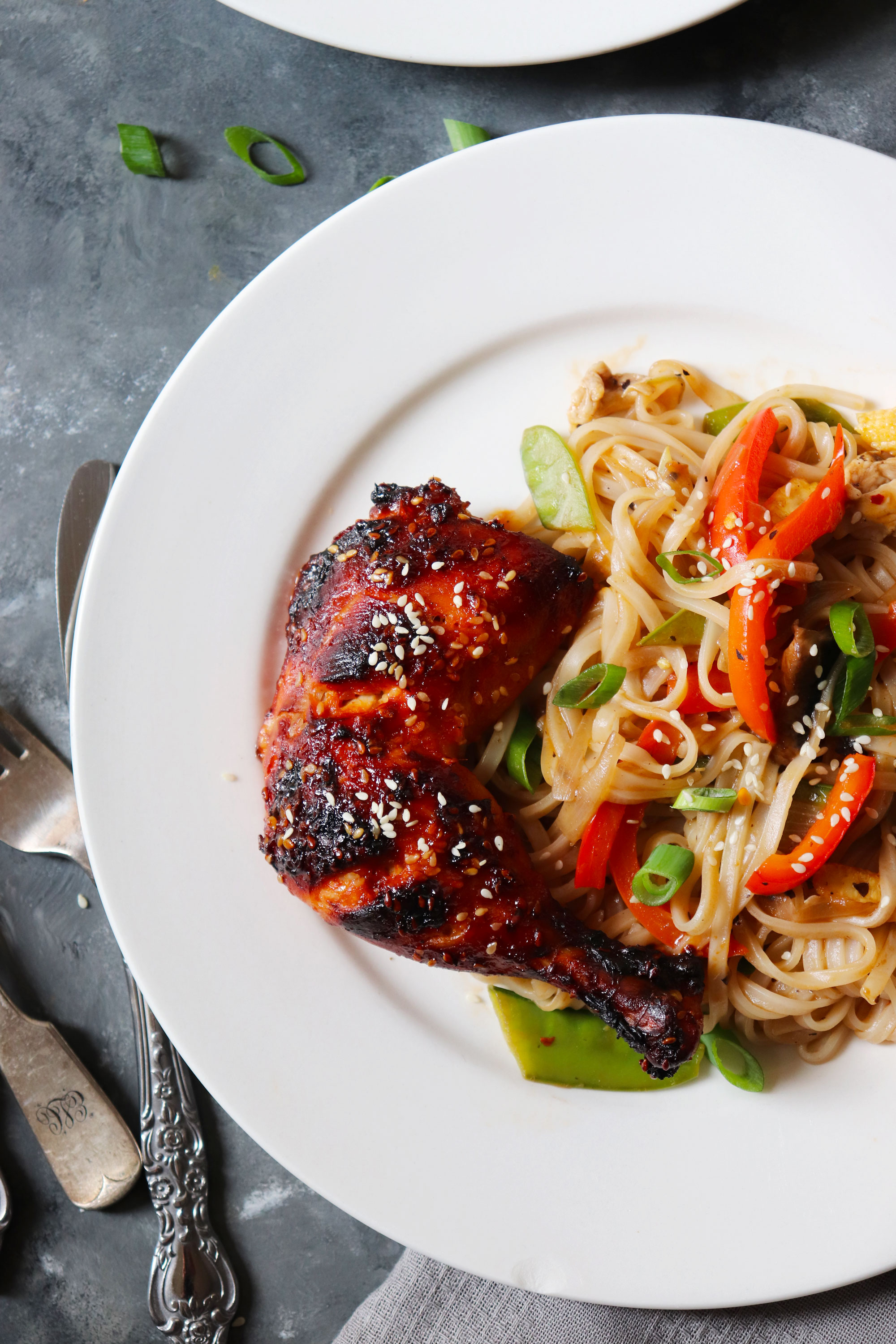 Mix and mach the veggies of your choice for the noodles, use anything that is left over, great way to use up those veggies hanging in the fridge. Swap the noodles for jasmine rice if you like, leftover rice works well too.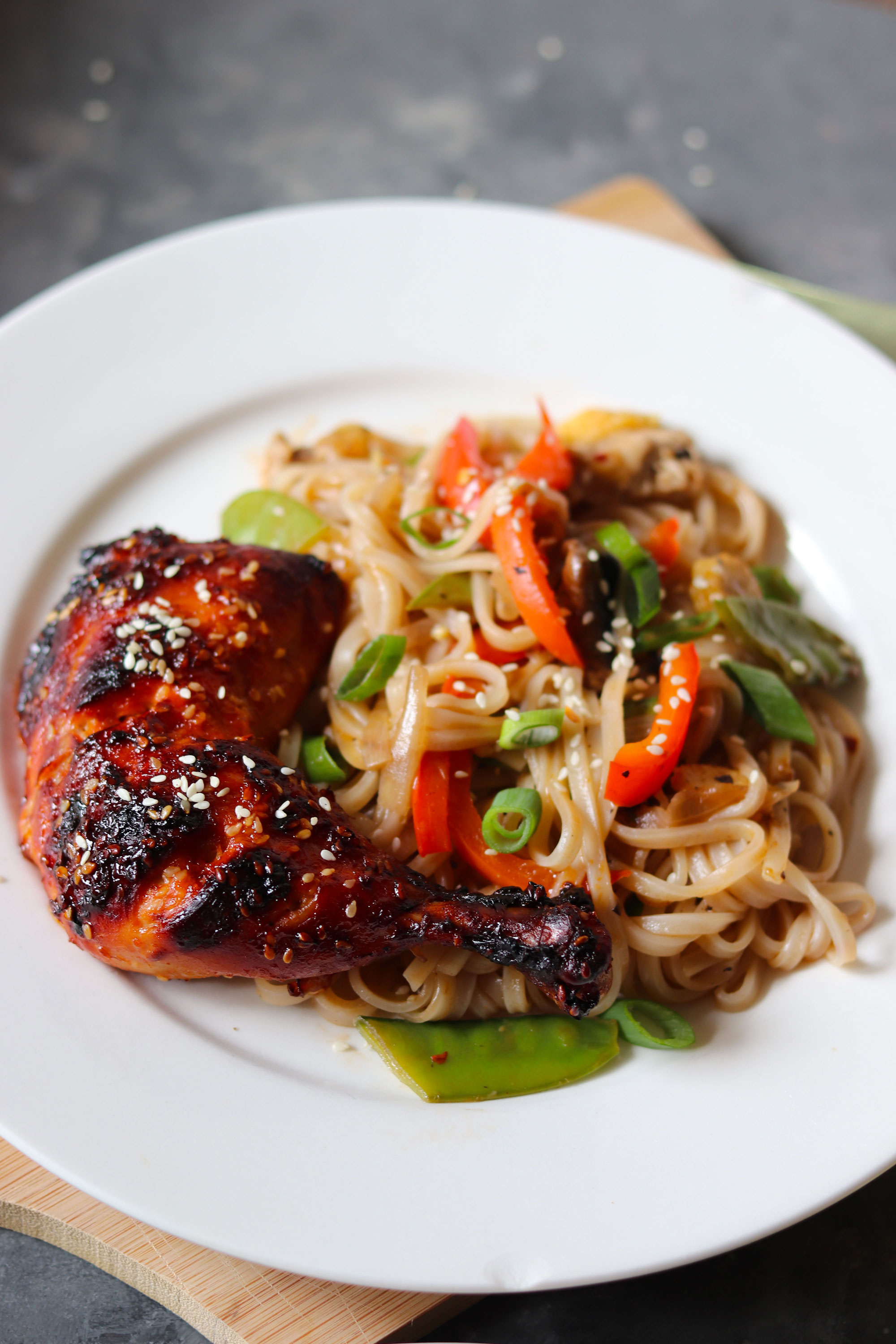 I hope you enjoy this recipe, It is gluten free, dairy free and yes sugar free too ;)
Let me know how you get along, if you have any doubts, please feel free to leave a comment, If you tried it do remember to share it with me on social media, using the hashtag #soulfulandhealthy
Have fun cooking :)
Warm Hugs
S
Sriracha honey Grilled Chicken with stir fry veggies rice noodles (Gluten Free)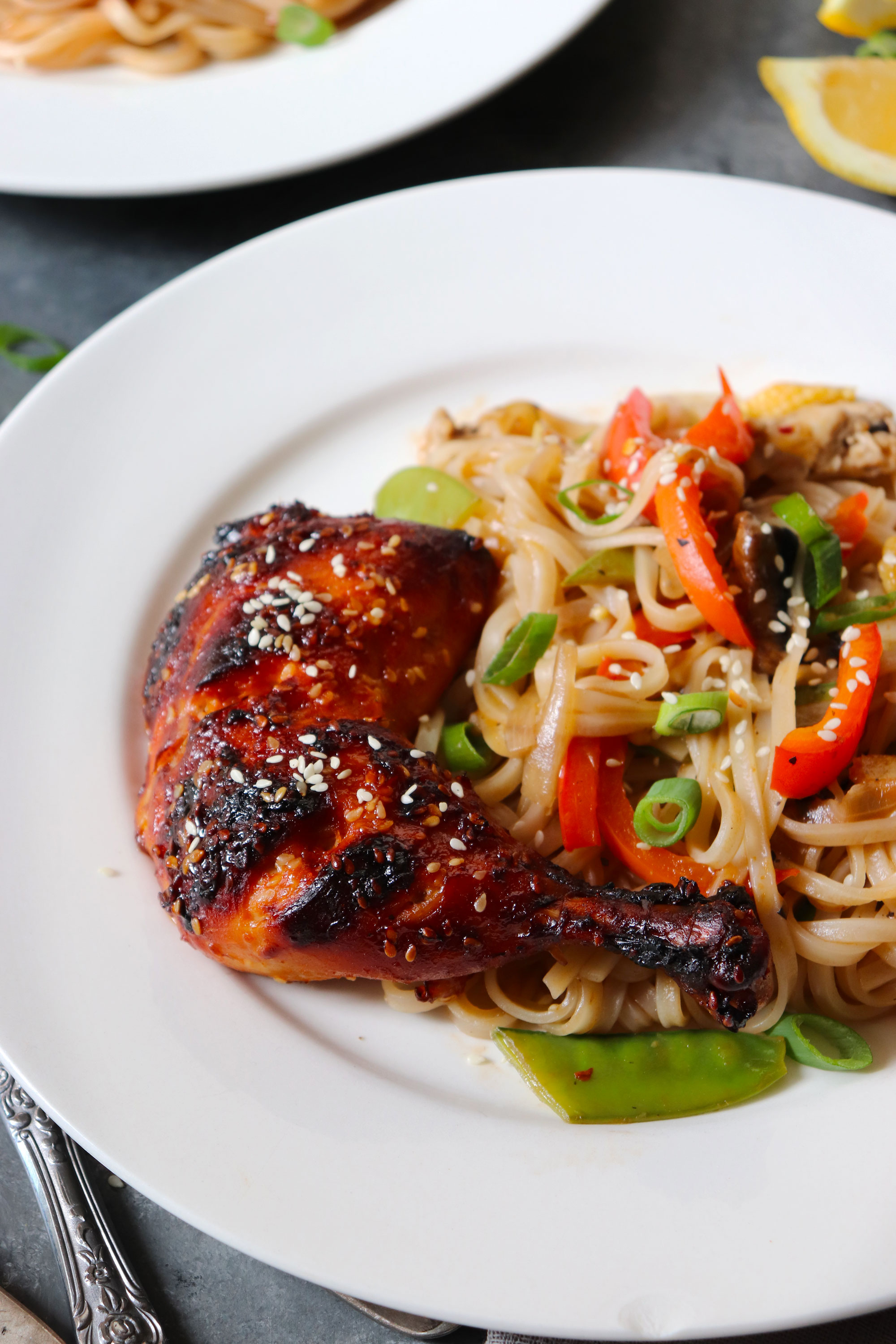 | | |
| --- | --- |
| Prep Time: | 1 hour and 30 mins appox (overnight marination required) |
INGREDIENTS
6 chicken legs or drumsticks (skinless) or 6 Thighs (skinless) or Two full Chicken legs (both thighs and legs included skinless)

For the marination -

3 tbsp sriracha
2 tbsp pure honey
1 tbsp lemon juice
1 tbsp fresh grated ginger and garlic paste
2 tbsp light soya sauce
1 tbsp sesame seeds
Pink Himalayan salt to taste
Fresh ground pepper

For the noodles -

150 grams rice noodles
1 red onion
4 baby corns
Mangaetouts 5 to 6
4 to 5 button mushroom
2 Spring onions chopped for garnish

For the noodle sauce -

1 tbsp sriracha
1 tsp pure honey
1 tbsp light soya sauce
1 tsp rice vinegar
1 tbsp thick tamarind water (Mix one tbsp of fresh piece tamarind with three tbsp of hot water)
1 tbsp corn Flour mixed with 3 tbsp of water
Salt and pepper to taste

2 tbsp good quality sesame oil
instructions
Prepare the chicken, remove the skin and make small slits with a sharp knife.
Mix all the marinate ingredients into a large bowl using a wire whisk, so everything is well combined. Set side about 2 to 3 tbsp of the mixture to use as a drizzle or dip while serving. Taste it and see adjust the spices according to your preference.
Add the chicken and refrigerate overnight or at least an hour.
Pre-Heat the oven for 200 degrees C 400 F , Place the chicken in an oven safe dish and using the grill mode, grill on the top shelf for 35 to 40 mins (Each oven time may vary, so keep an eye), at half way through turn the chicken and drizzle the leftover marinate sauce.
While the chicken is being done, chop all the veggies.
Prepare the noodles as per the package instructions.
Heat the oil on a hot work and stir fry the veggies, for 4 to 5 mins.
Add the sauce ingredients and mix well to combine. You can add a splash of water of you think its drying out.
Add the noodles and mix well.
Serve the chicken and the noodles garnished with chopped spring onions, drizzle the marinate sauce. Enjoy!