Indian spiced turkey sausage rice meal
A message popped up in my Instagram inbox from the wonderful team of Ballyfree that they wanted to send me some of their goodies to try. I was delighted :) I have been using their sausages, rashers and eggs for more than a year now. They are one of the brands I trust and I would fully recommend them also feed my family with. Their turkey sausage is my little boys favorite. Each turkey sausage has just 70 calories ;)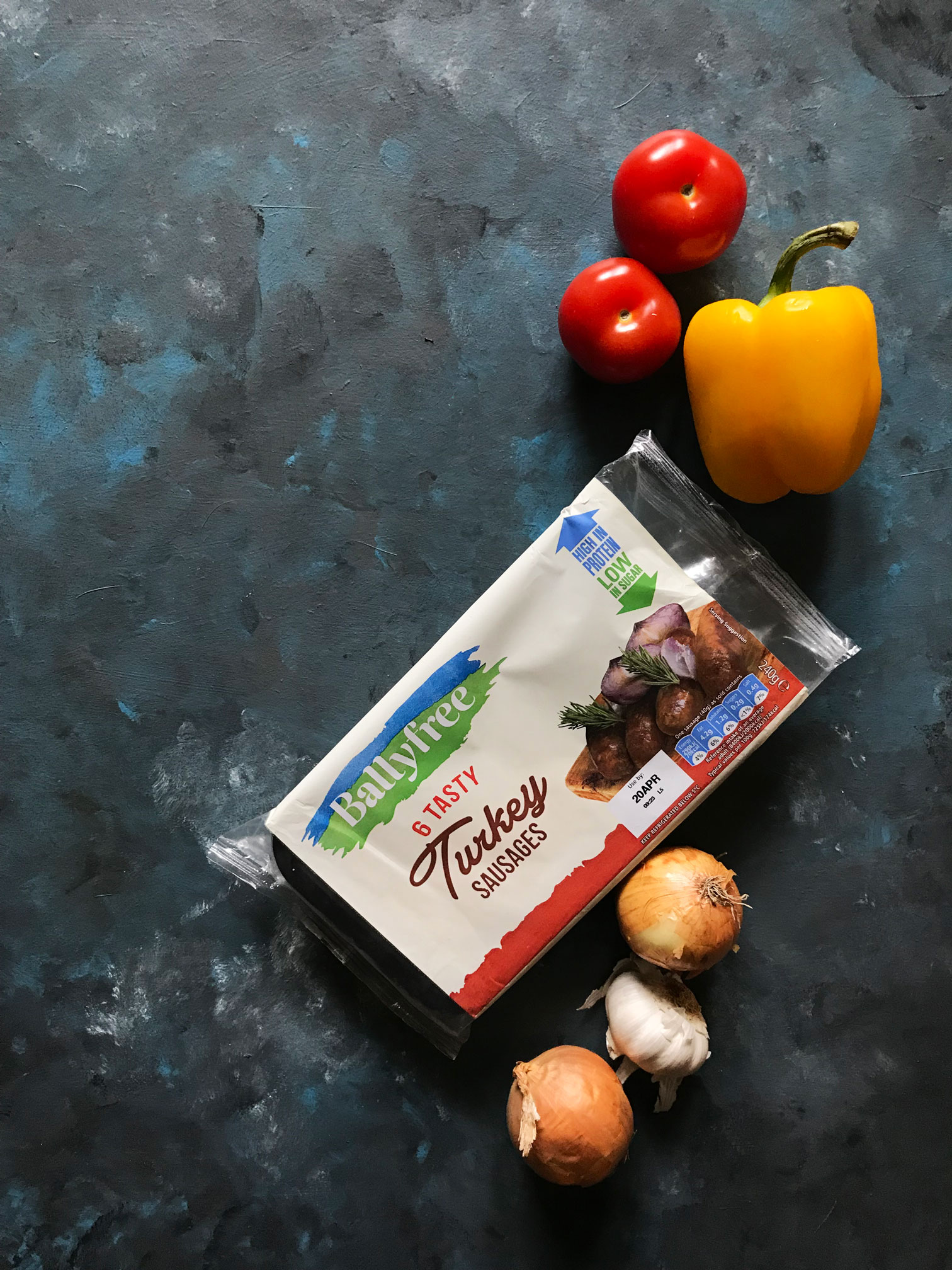 With so many sausages I wanted to also try them in some recipe, so came up with the idea of using them in a one pan meal with Indian spices and it turned out absolutely delicious. So easy to put together, hassle free, one pan so less cleaning after :)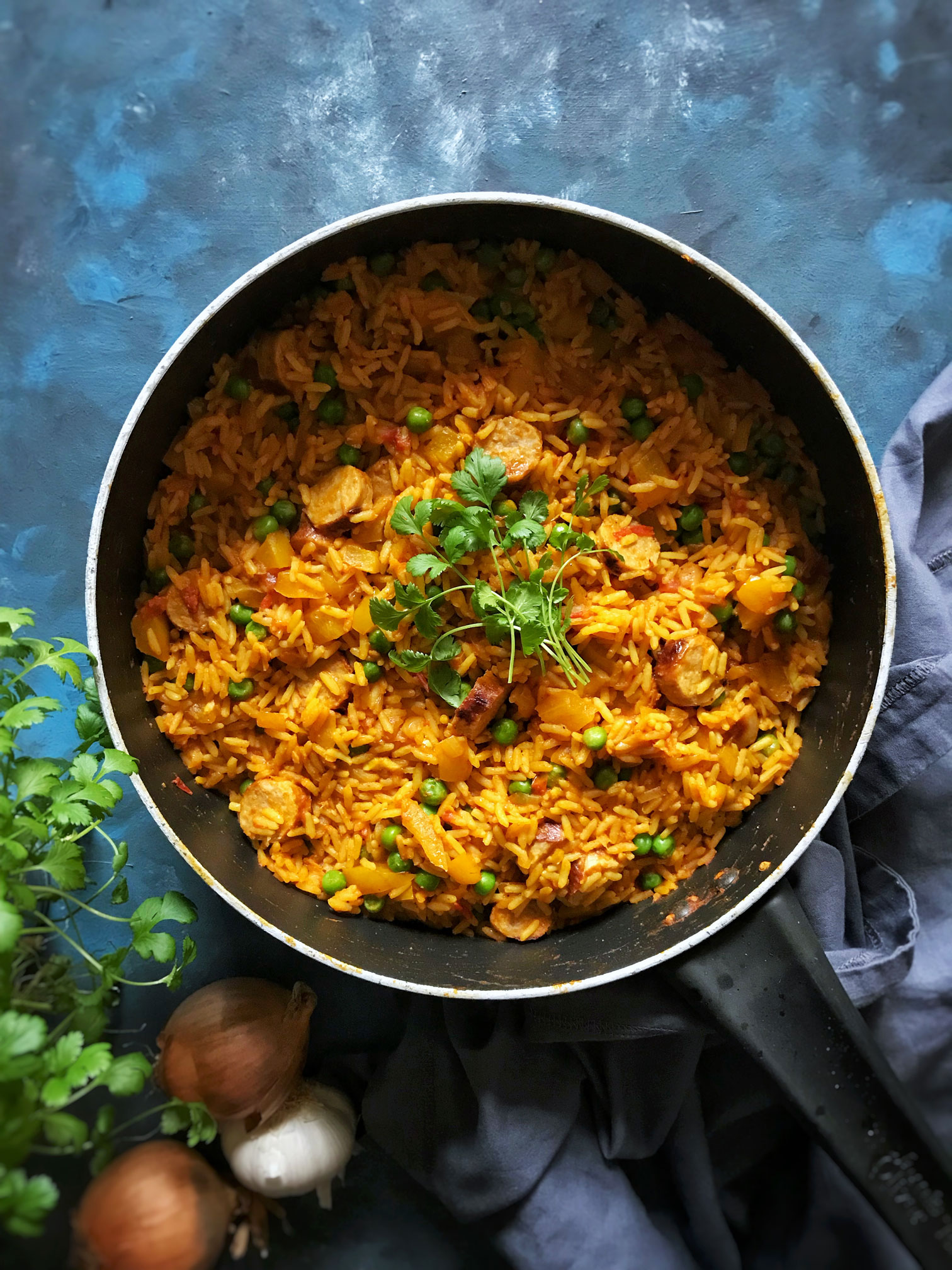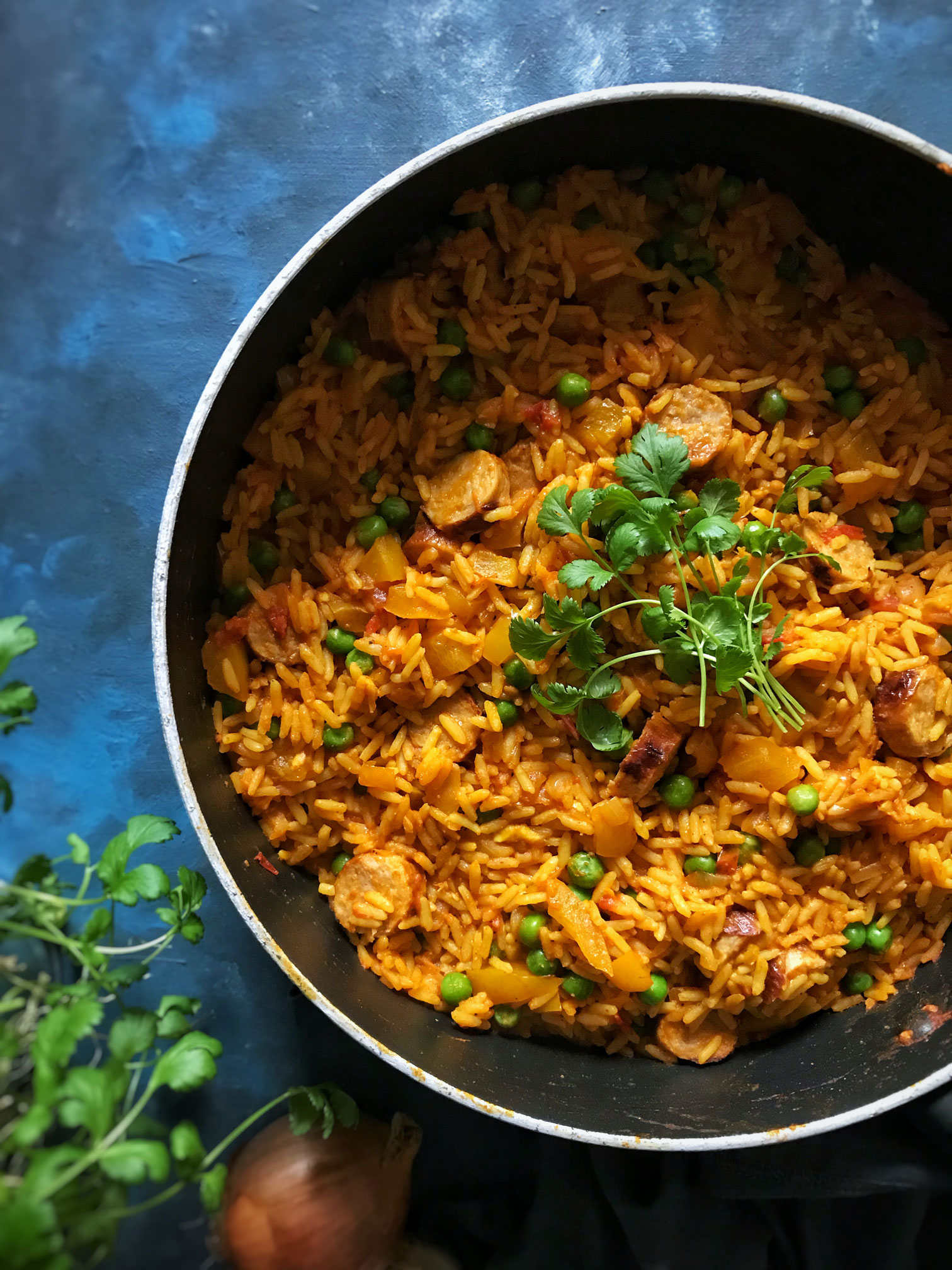 Few vegetables, and couple of Indian spices you have an meal that you will enjoy. Serve with some simple fresh salad and some starter you have a meal to impress any one.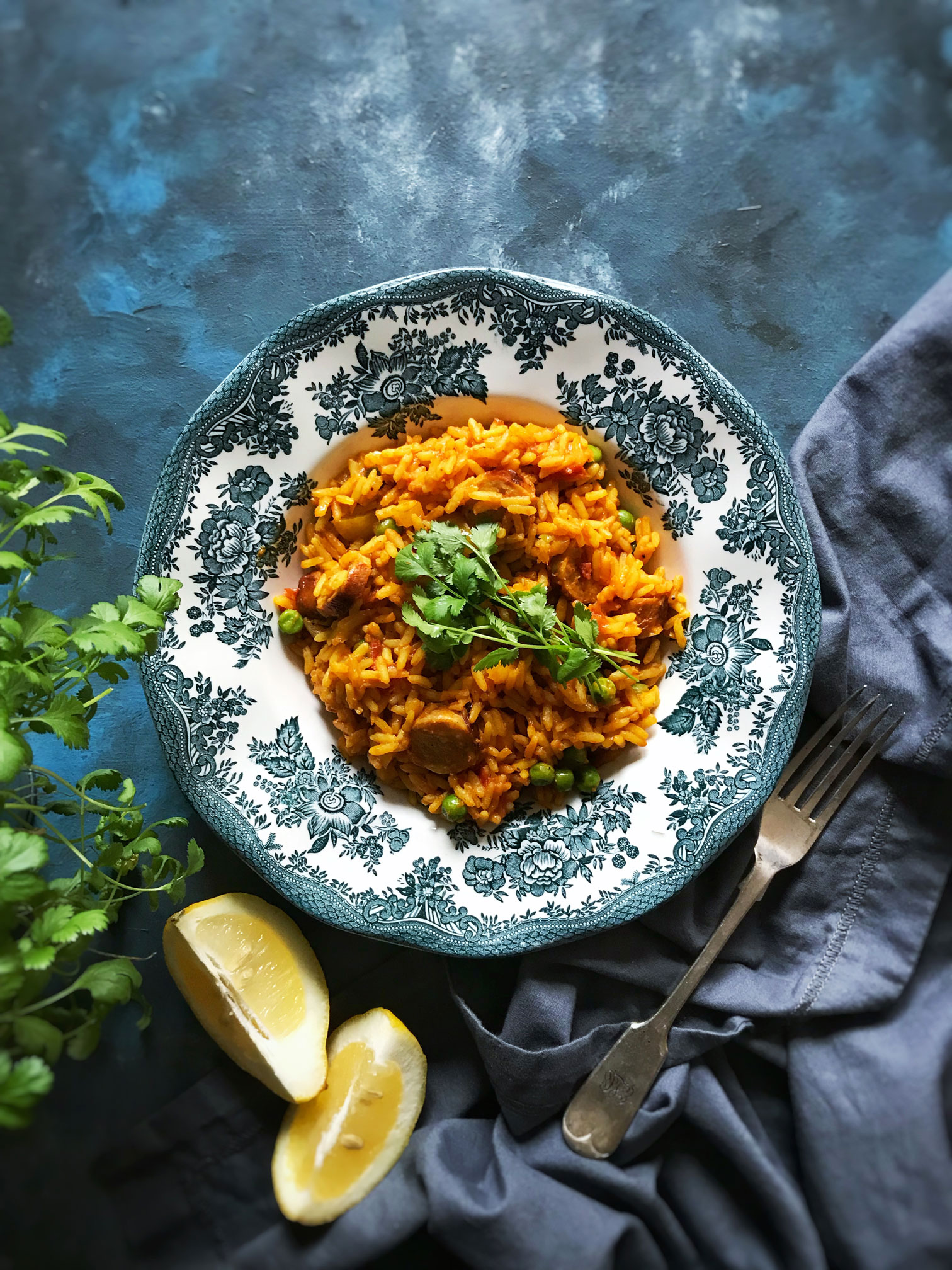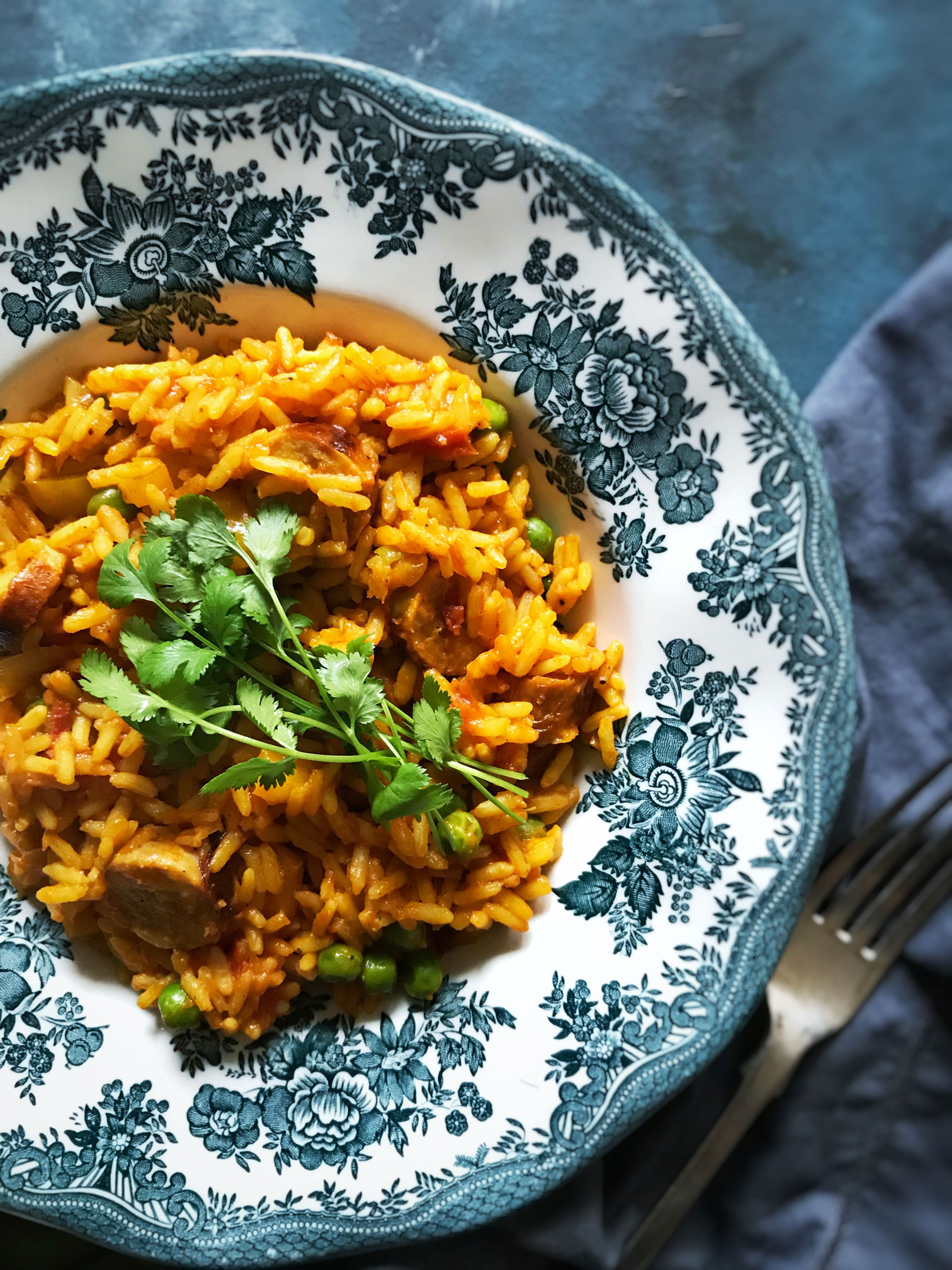 You can customize it the way you like depending on what vegetables you have. Make it more spicy by adding more chili powder, or even fresh green chili chopped.
Indian spiced turkey sausage rice meal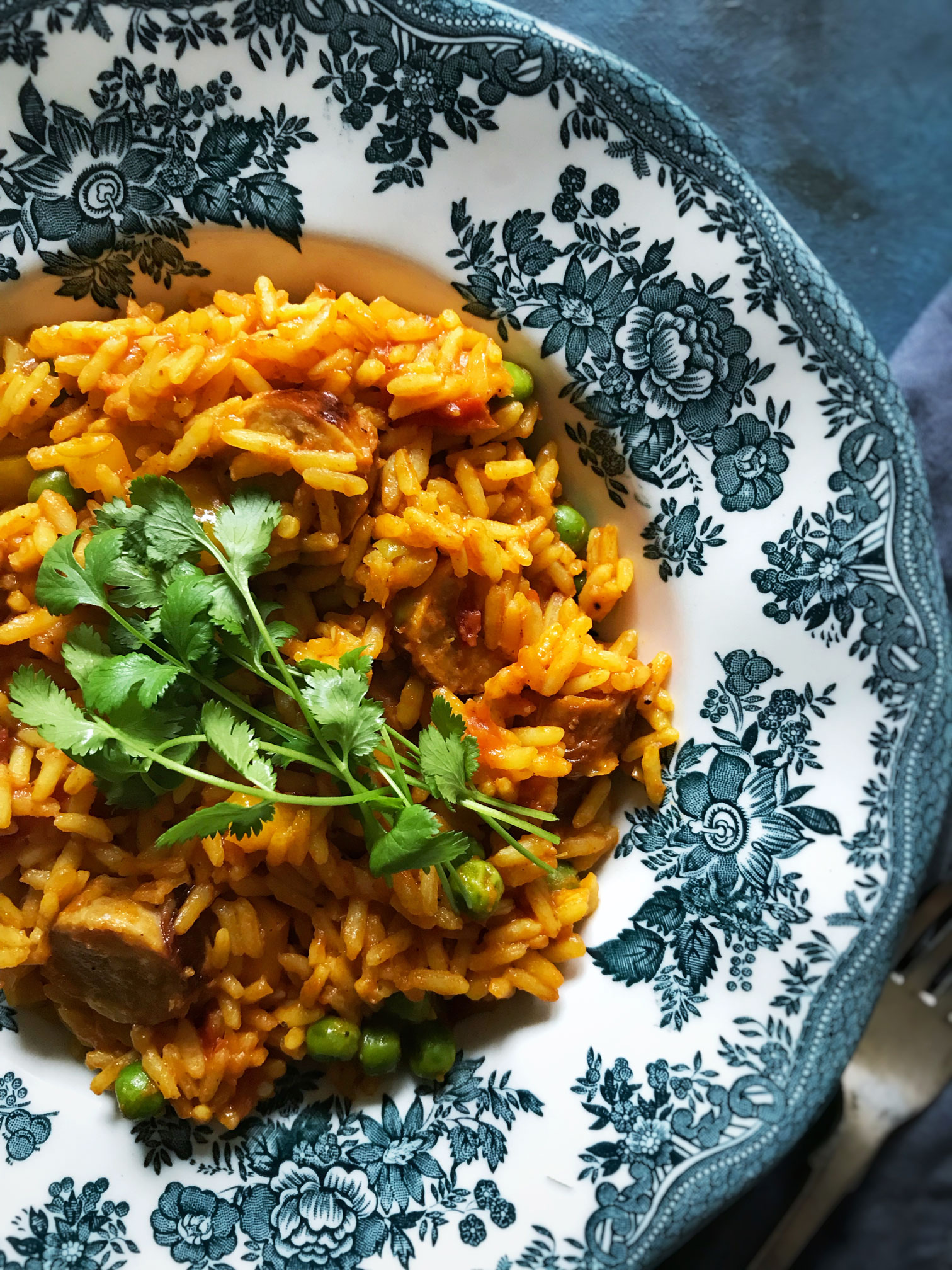 INGREDIENTS
150 grams long grain rice
2 small onions
1 inch fresh ginger piece
2 small cloves of garlic
2 medium size tomatoes
1 red or yellow pepper
Juice of one lemon wedge
1/2 cup fresh or frozen green peas
1 tbsp tomato purée concentrate
4 Ballyfree turkey sausages
2 cups of water (300 ml approx)
1 tbsp oil (sunflower or ghee)

Spices

1/2 tsp turmeric
1/2 tsp ground cumin
1/2 tsp ground coriander
1/2 tsp paprika
1/4 tsp Kashmiri red chilli powder
1/4 tsp Garam Masala powder
Pink Himalayan salt and pepper to season
instructions
Fry the sausages as per the package instructions and set aside
Chop all the veggies, finely grind the ginger and garlic using a pestle and motor
On a non stick pan heat a tbsp ghee or sunflower oil, add the chopped onion and sauté until translucent for 3 to 4 mins
Add the ginger and garlic and fry for a min
Add the chopped tomatoes fry for 3 to 4 mins until the water from the tomatoes evaporate.
Now Add the tomato paste, and all the spices, stir so everything is well combined
Add the chopped peppers, sauté for min or two
Add the rice and mix well, add water, reduced the flame and let the rice cook.
when the rice is half way done, add the peas and chop the cooked sausages add them to the rice, mix well.
Cover and let it cook until the rice is well done. Squeeze the juice of lemon on the rice. Stir well and serve warm with salad of choice.