Now who doesn't like pizza? I don't think I have ever met anyone who has said that. And a homemade one, oh yes!! I would have never ever dreamt that I can make my own pizza dough someday. I was freaking out by the whole idea of using yeast! It was always something that only 'Mom's' would do, well I am one now :)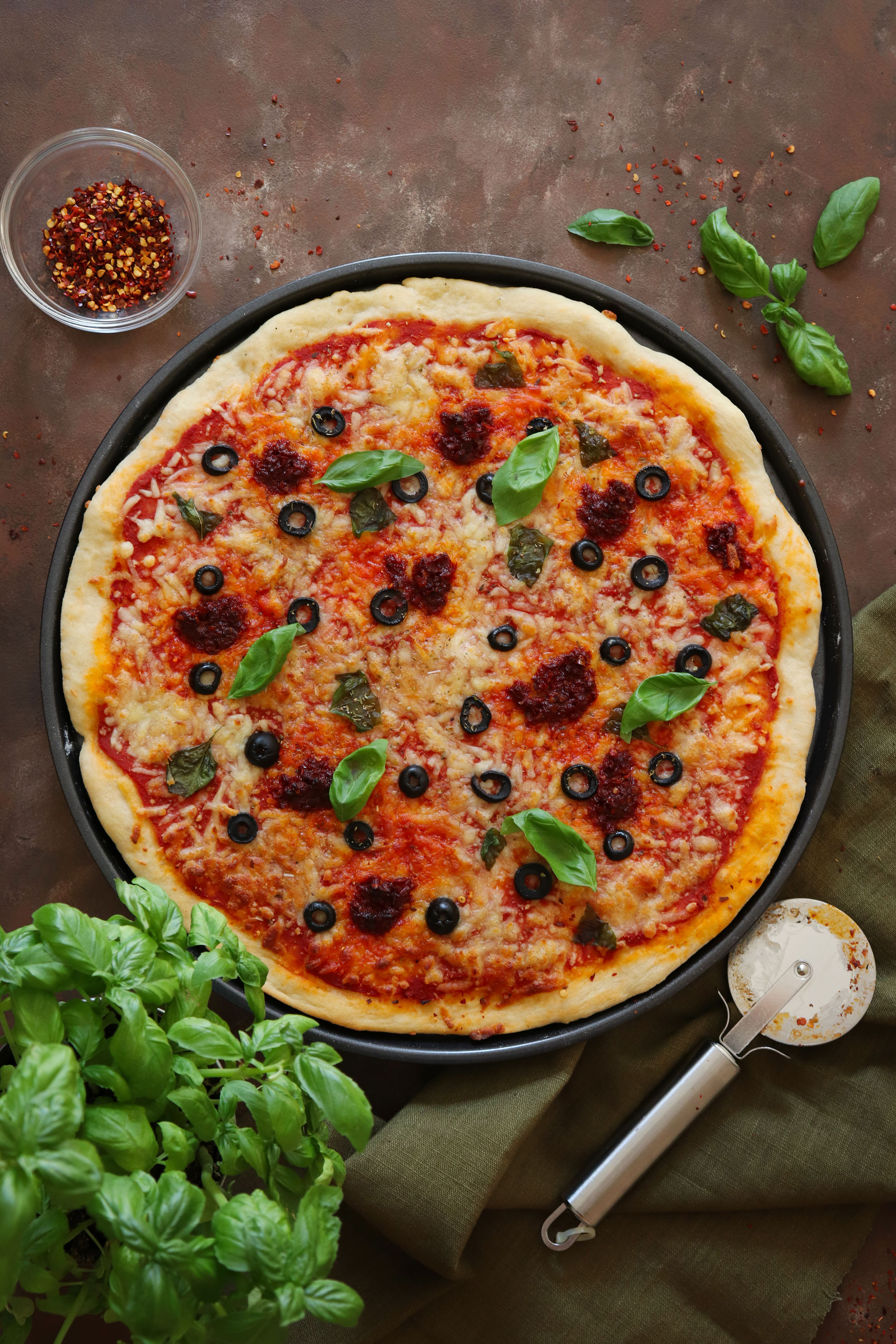 So when my lovely Italian friend told me she will teach me how to make my own pizza I was delighted! Trust me it is not at all difficult, once you get the hang of it, you can make gorgeous tasting pizza all at home, customize the toppings with what ever you have and it will turn out absolutely delicious.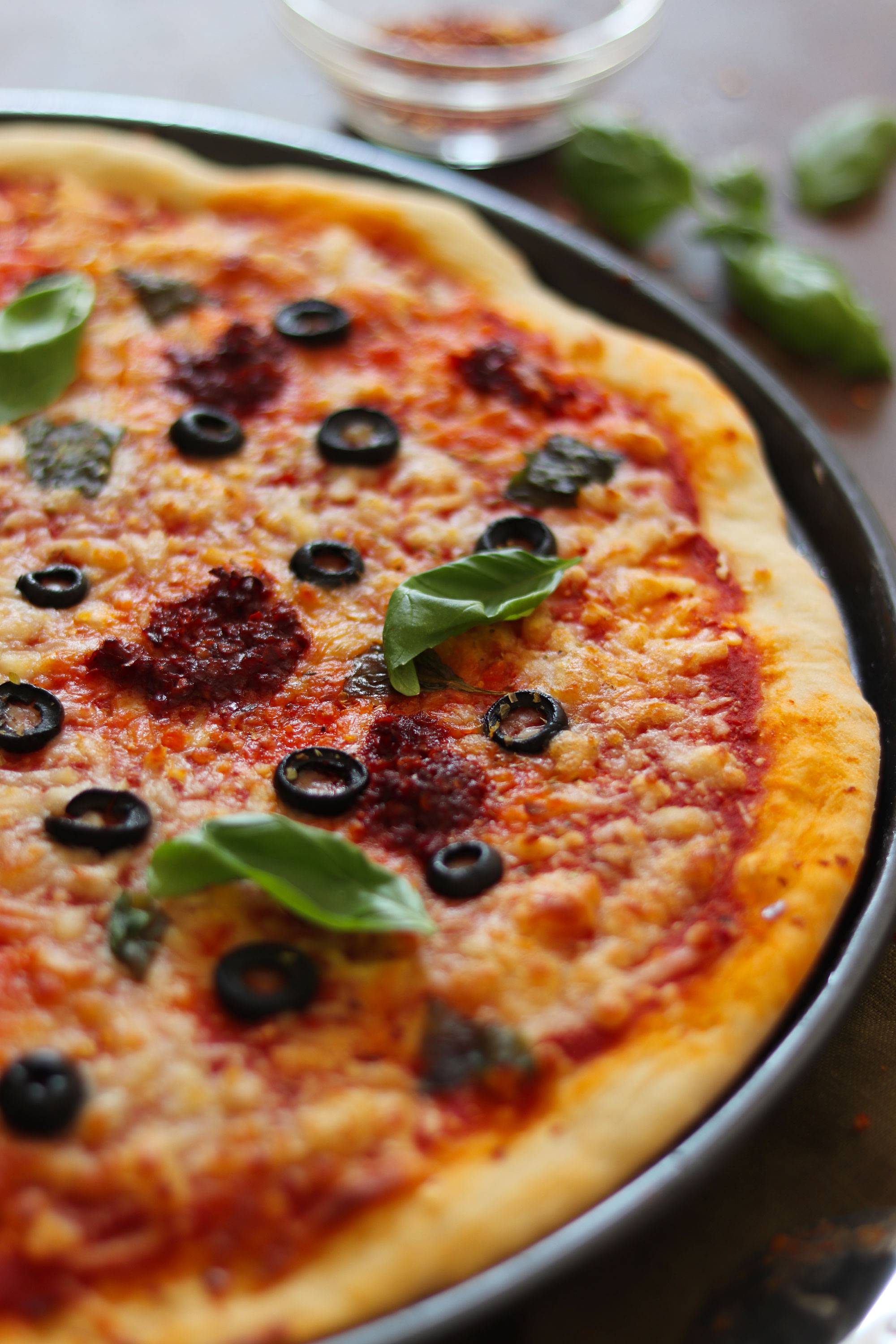 I have tried this recipe like a million times now, and invited two Italian couples, one Irish family, my Polish in laws and my very own, everyone enjoyed it and it was a hit!! Yay! I am still not an expert, I can't flip the dough in the air like the professionals do, but I think I have reached a stage where I can proudly say that I can make my own pizza!


There are few things to keep in mind while making a pizza dough -
Flour - I have tried this with various flours and it does make a difference which one you use. So always make sure to buy an organic strong flour. Why strong you may ask, it's the gluten that varies from flour to flour. So strong flour has high gluten content which makes it more elastic. I have read that strong flour is for making bread because it need to raise, but since my Italian friend told me to use strong I will stick to that :) if you can't find a strong flour then it's ok to use a plain flour.

The weather - Yes the weather! On a warm day the pizza dough will raise so beautifully, but when cold it might not. Also the humidity of your home, the warmth in the kitchen, every little thing makes a small difference. Don't worry, it's not something to worry about. These are few minor things, you will get used to it when you make pizza more often.

The sauce - for a tasty pizza I would highly recommend using just plain passata, it's one of the best one. I have tried again various pizza sauces, even pasta sauce, but a very good quality passata (which says made with 99% tomatoes) works the best.

Pizza base - I always use a pizza crisper, (you can find it here) it has worked well for me, so I stick to that. You can even use a pizza stone if you have one or you can even make it on your oven tray using a kitchen foil at the bottom. I made my very first one like this.

Toppings - Get creative with your pizza, it's yours do it the way you like ;) add any veggies, ham, it's totally up to you. My personal favorite is the one with nduja, which you can find here. It is a spicy spreadable pork salumi from Italy, mostly used in the Southern part of Italy in Calabria.
Few pictures I took, to show you the step by step process, might help ;)
Flour the worktop and kneed your dough for few minutes.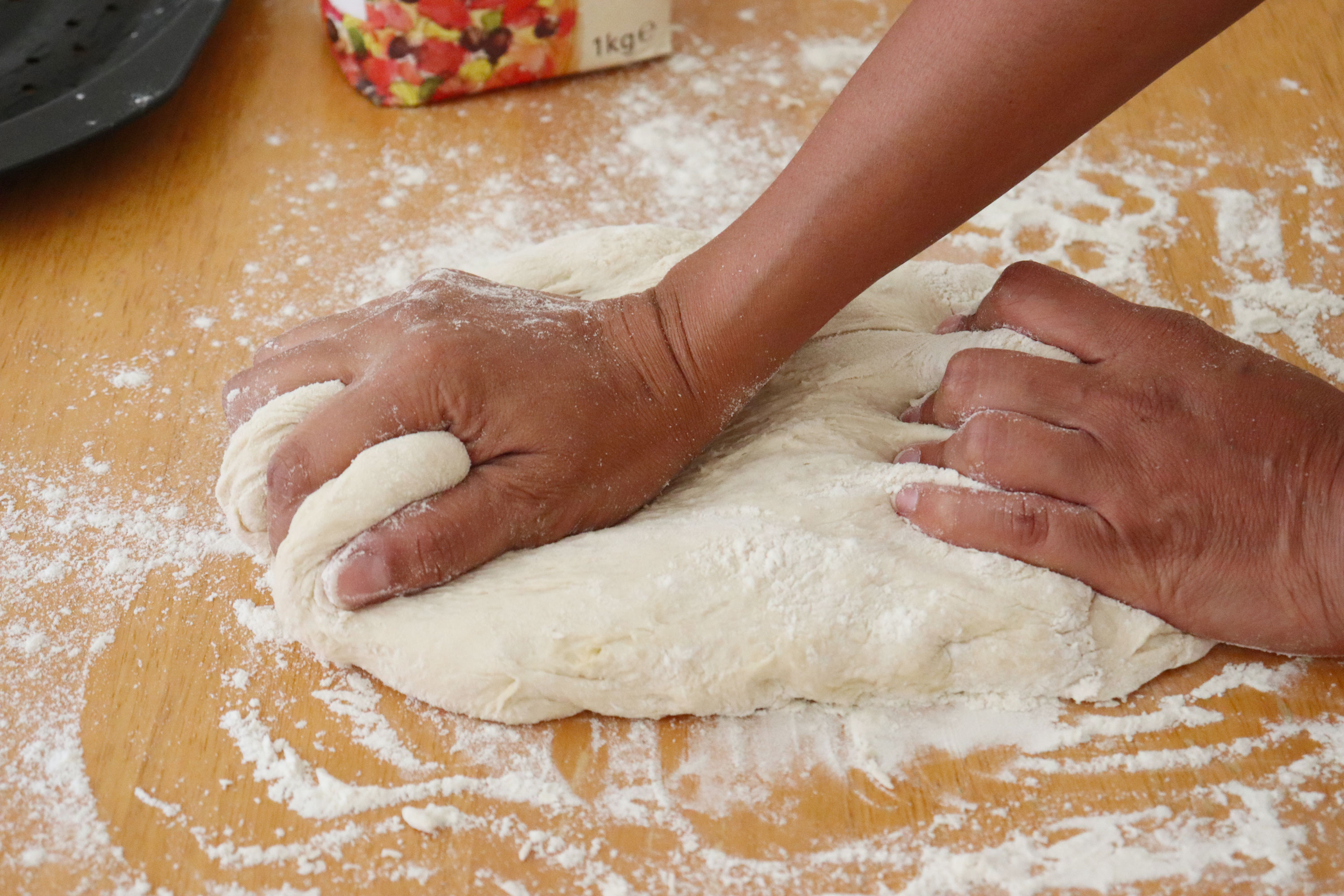 Use a rolling pin to gently roll the pizza dough, be gentle try not to remove all the air out. At this stage you can even spread it out by hands instead of using a rolling pin.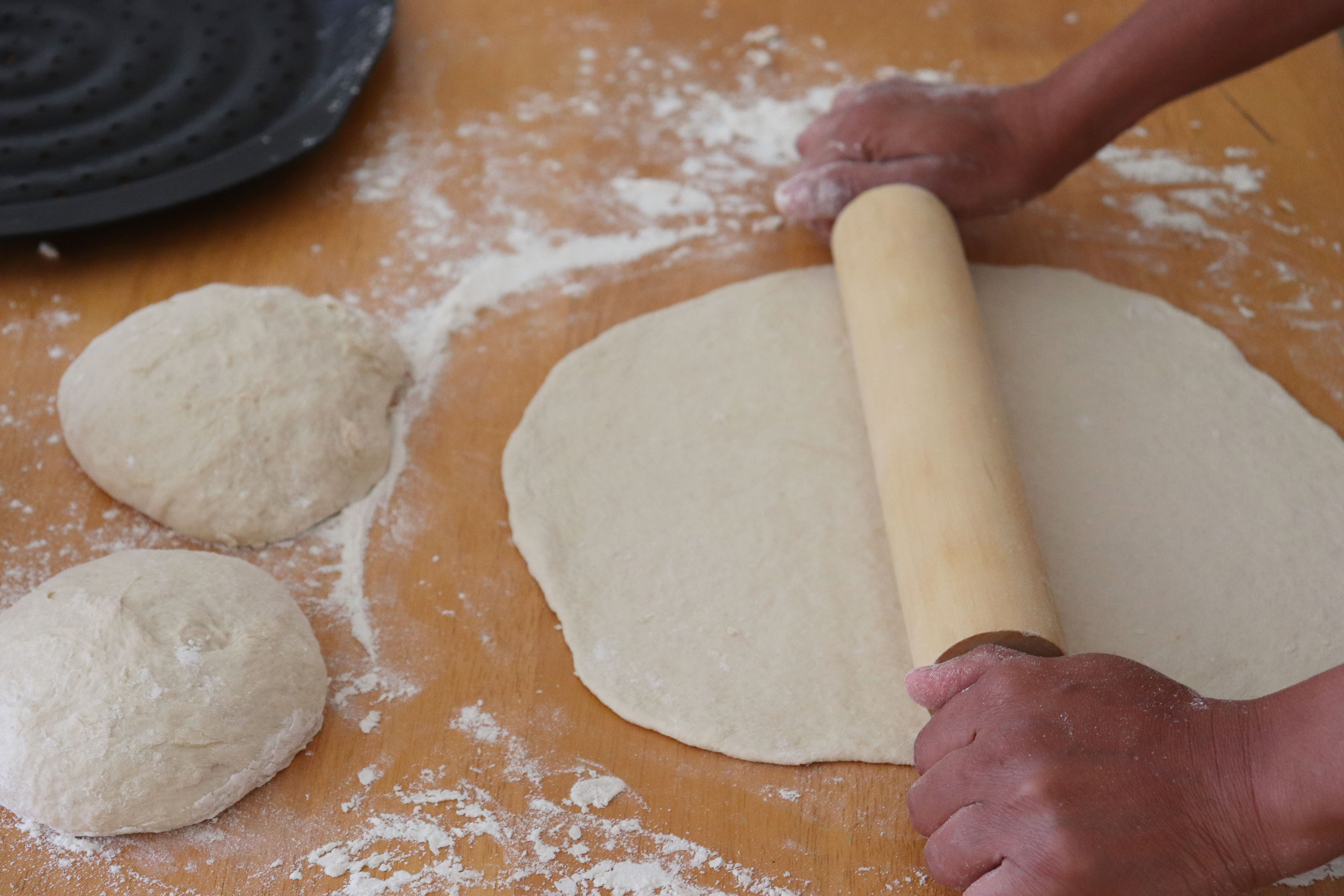 Carefully transfer the base on to a pizza crisper, pizza stone if using one or your oven tray with a kitchen foil on it.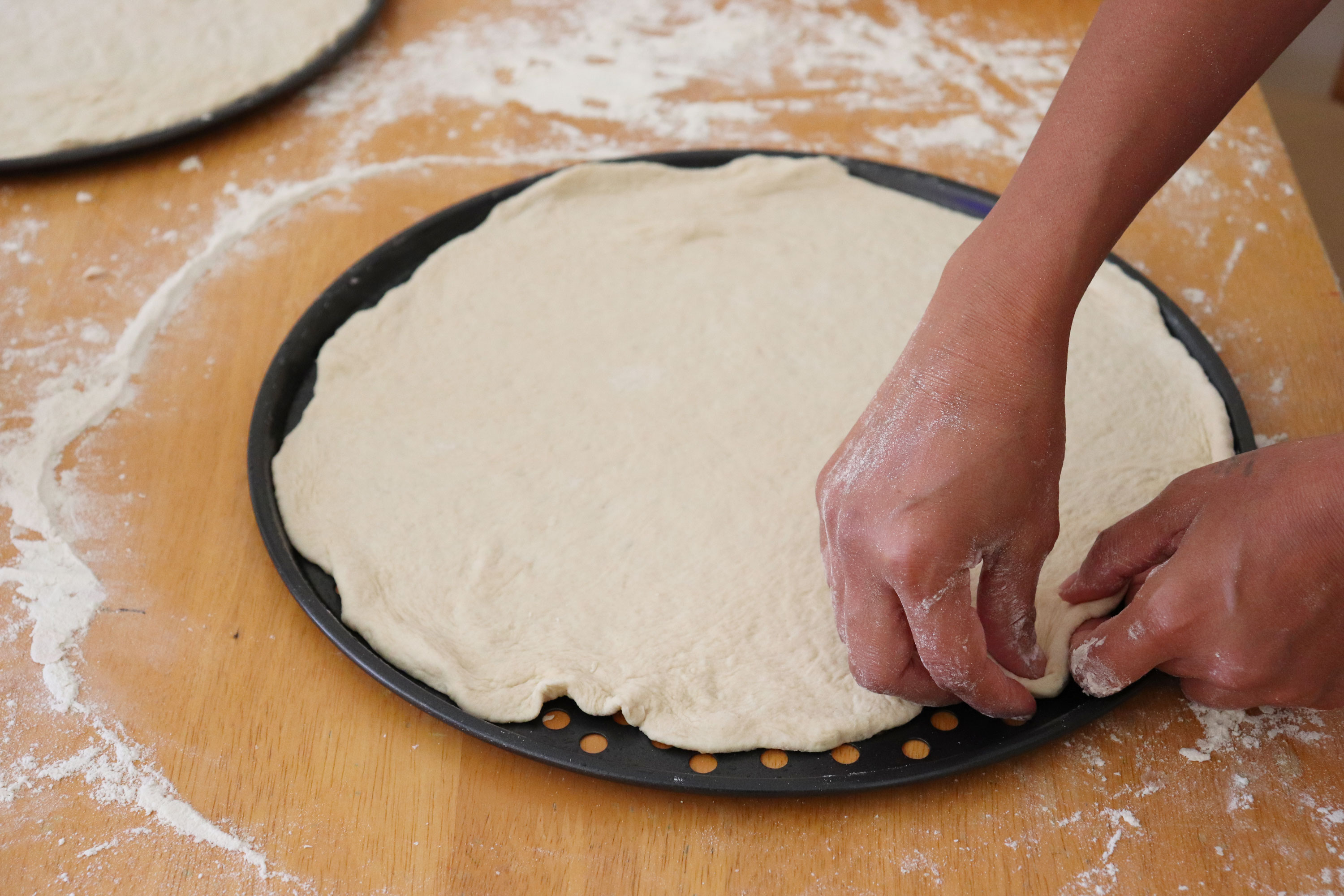 Add the passata, cheese and whatever toppings you like.
Ready to be baked!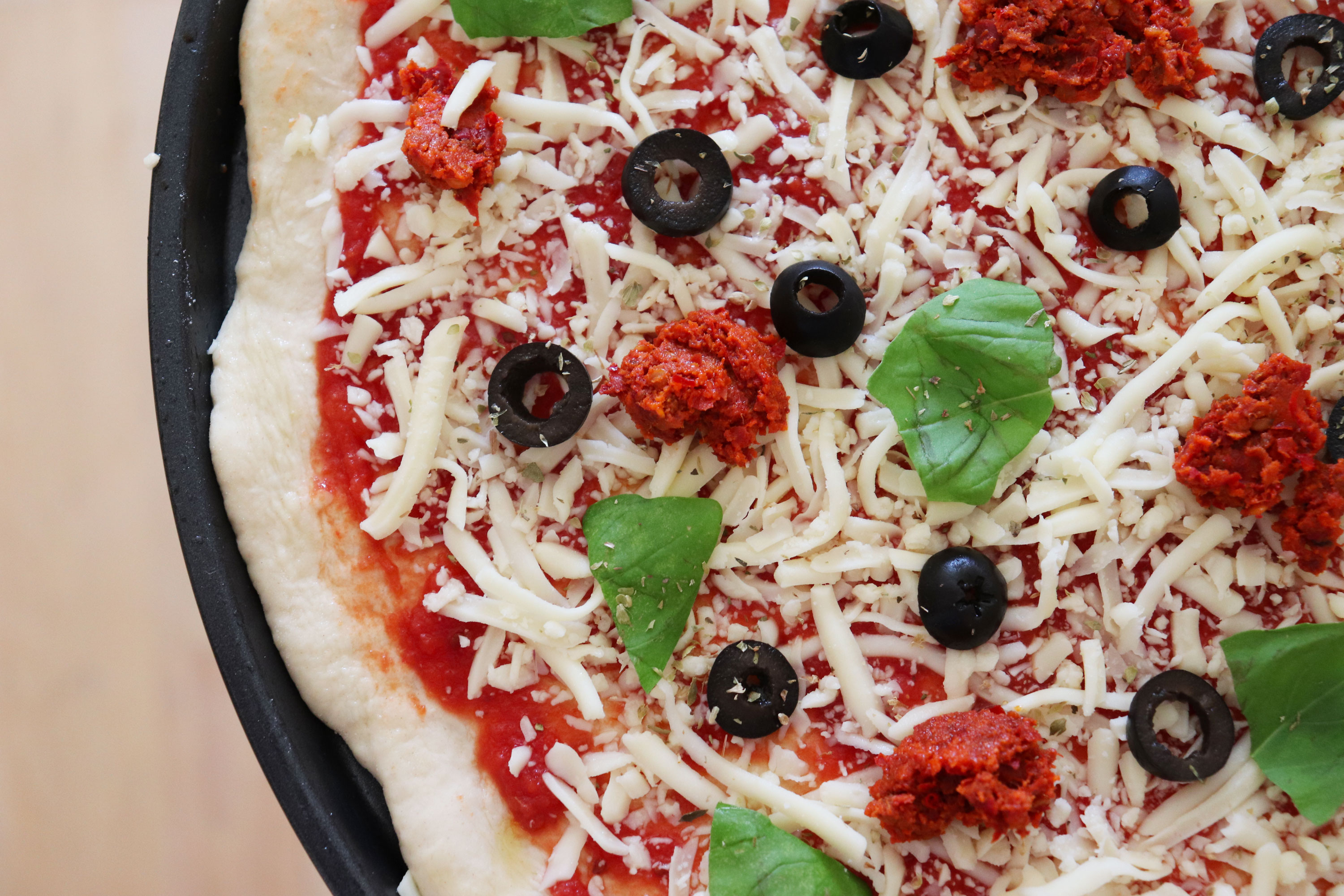 Last thing just enjoy the whole experience of making the pizza. There is nothing more satisfying when you make something from the scratch on your own. It's ok even if it doesn't turn out perfect few times, that's how you will learn. That's how I learnt :)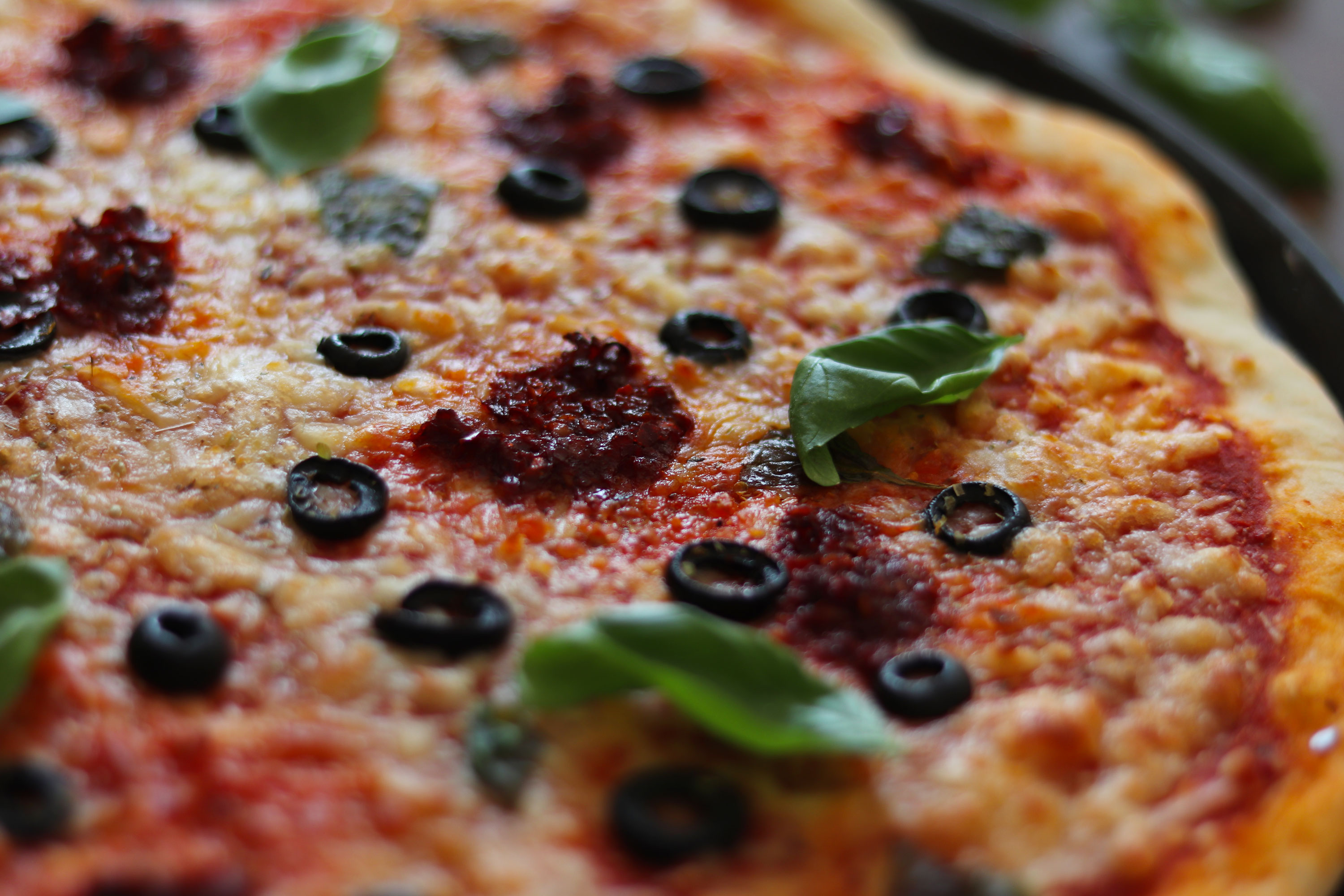 I hope you enjoy this recipe, it is a special one coming from my traditional Italian best friend, who inspired me to make my own pizza. Let me know how you get along, please do tag me if you try my recipes and share on social media so I can see your gorgeous pizzas :)
Have fun making your pizza!

Love

S
Homemade Pizza Dough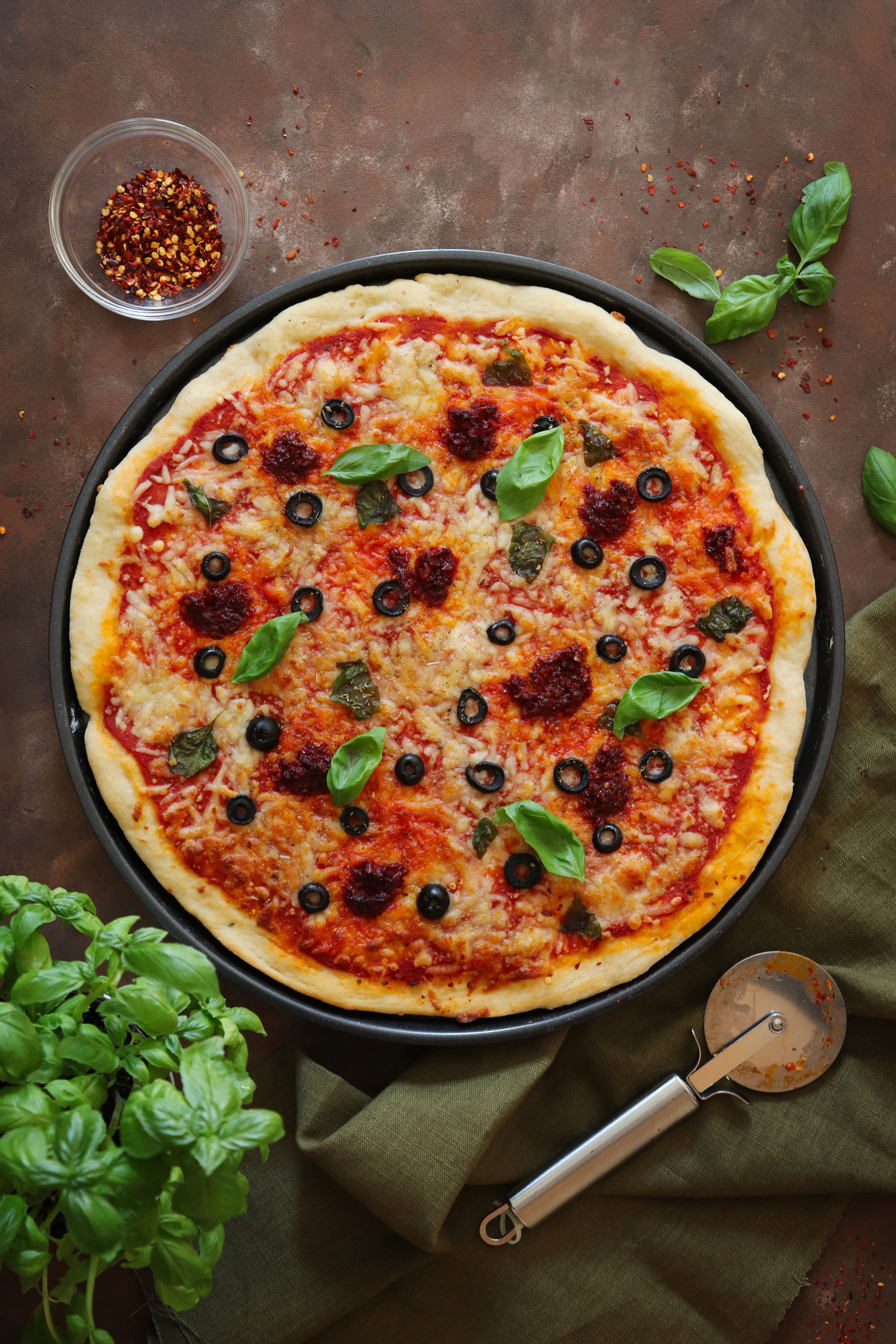 | | |
| --- | --- |
| Prep Time: | 10 mins to mix, 3 hours to set and 15 mins baking |
INGREDIENTS
500 grams of strong flour
5 tbsp good quality extra virgin olive oil
1 packet of yeast
350 ml luke warm water
1 tbsp sugar
Salt to taste

For the topping

One jar passata
2 packs of grated mozarella (400 grams)
Any desired toppings (mixed veggies, ham)
instructions
Mix yeast and sugar with the warm water, let it sit aside for 10 to 15 mins.
Add the flour and oil and knead well using a wooden spoon, for about 3 to 4 mins, until it all comes together.
Set aside cover with a wet tea towel and set aside for minimum 3 hours in a warm place (kitchen).
Pre-heat the oven for 230 degrees
Once ready, dust a little flour on a work top and knead for few mins, divide into three portions. (take a look at the pictures for reference)
Roll out using a rolling pin, or gently spread with your hands.
If using a pizza crisper, apply oil to it and carefully more the dough on top of the crisper.
If using your oven tray line with kitchen foil and carefully move the dough onto it.
Add the passata, then grated mozzarella, any desired toppings of your choice.
Brush extra virgin olive oil on the edges of the pizza all around (makes it crisper)
Bake in the heated oven for 12 to 15 mins (each oven time and heat varies, so keep an eye).
Serve right away.