Indian spiced chicken and pasta salad
Summer is in full swing in Ireland and all I can think of is eating something cold and refreshing! This is the first time in five and half years of my stay in Dublin I have experienced this kind of continuous warm summer, it's so beautiful. Everyone comes alive, like literally 😁 there is so much going on everywhere, it's a totally new Country. I was telling my husband if this stays like this we don't even have to think about going away on a holiday. 😉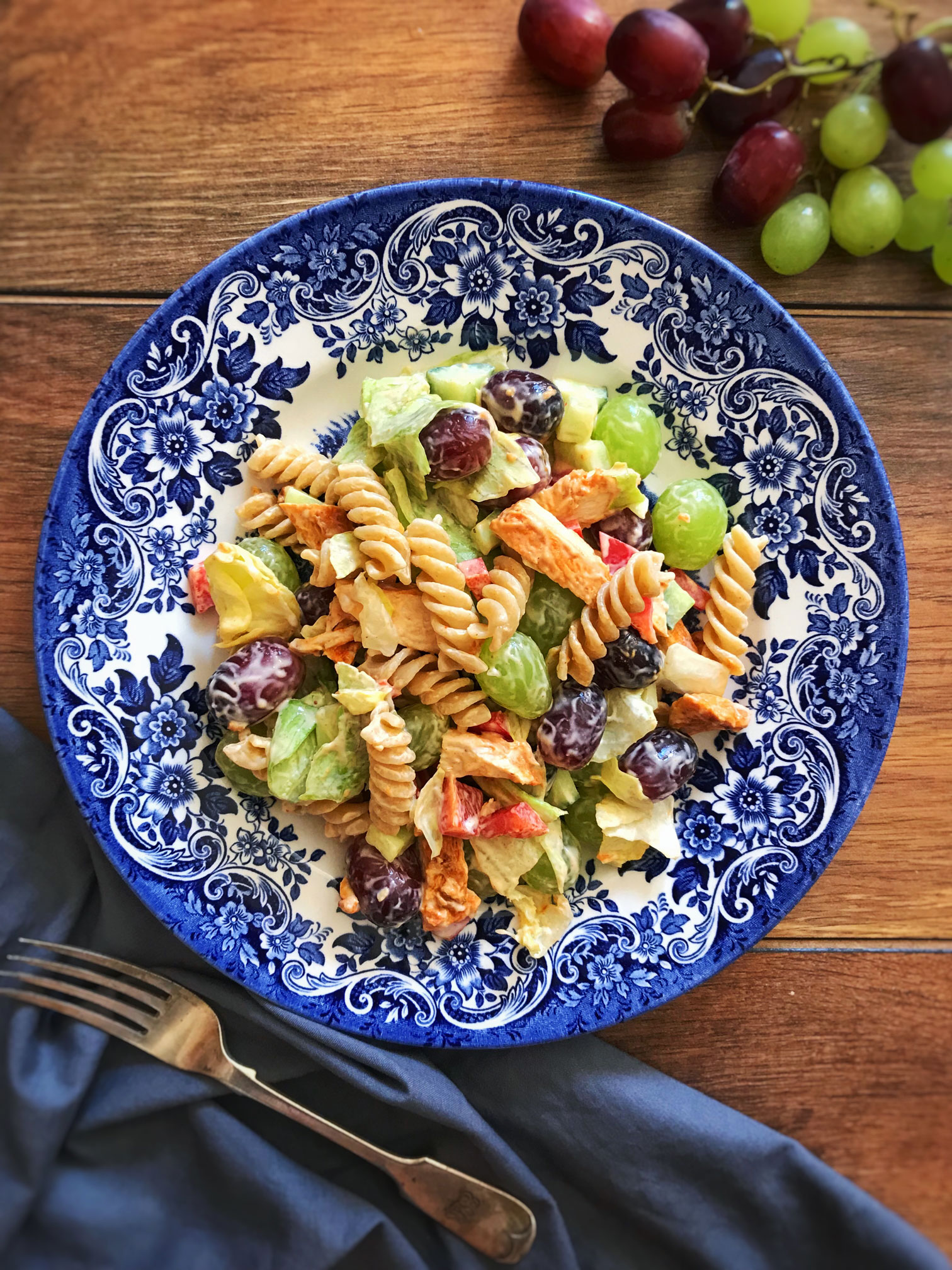 Ireland is so beautiful, so much beauty in every single corner and in everything. Go to a park, a walk in the woods, a simple stroll in Phoenix Park, a day in the beach, or just a drive around the Dublin mountains. There is so much to do and this little green isle has so much to offer.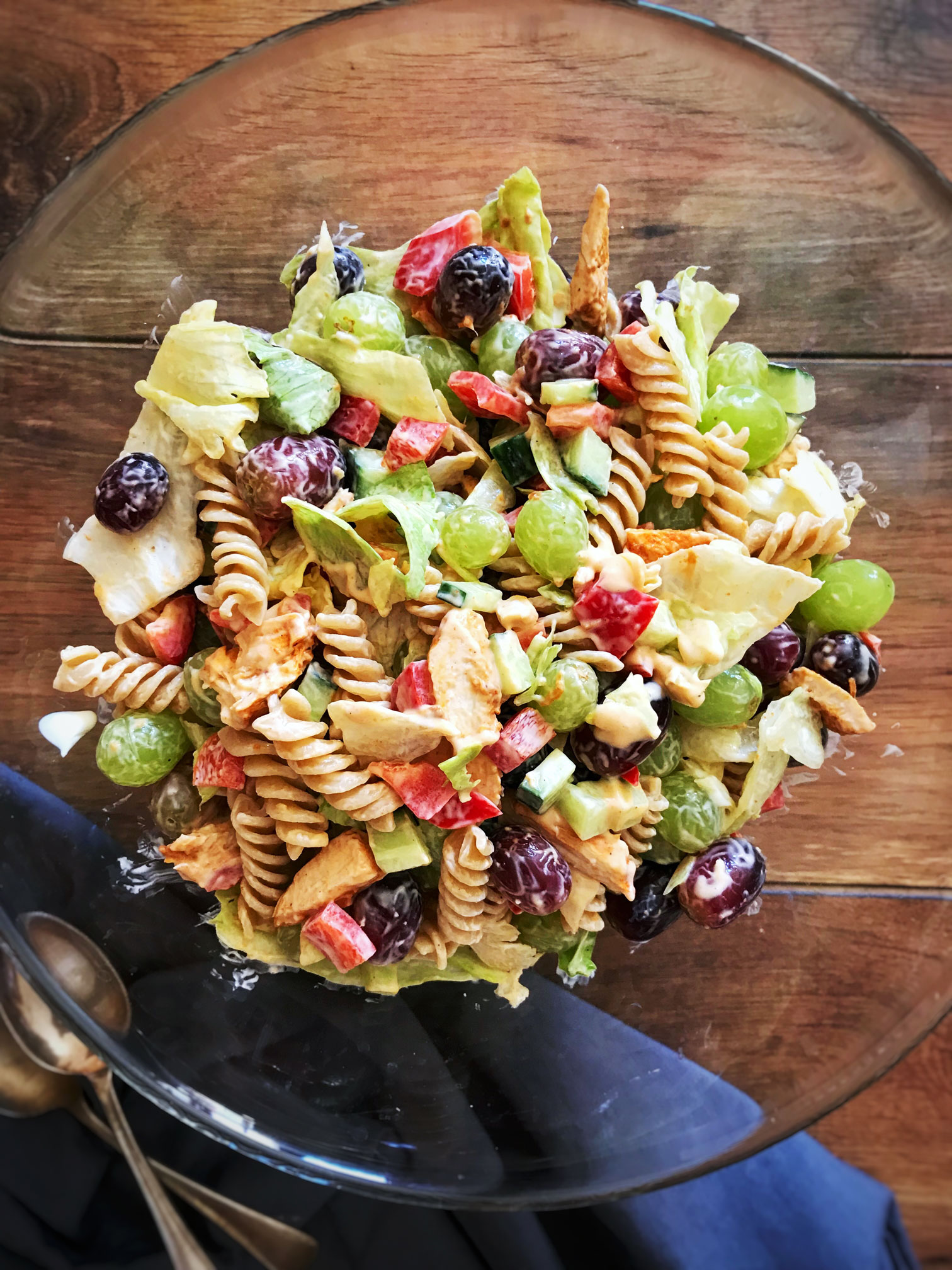 Looks like I have to write a separate blog about the places to visit, things to do here in Dublin and around Ireland. We still have so much to see and even more to do.

Coming back to food.. I remember last summer in 2017 my friend inspired me to make this delicious and absolutely refreshing, summery salad. It requires few ingredients, many times whatever you have in the refrigerator. Great way to use up those veggies.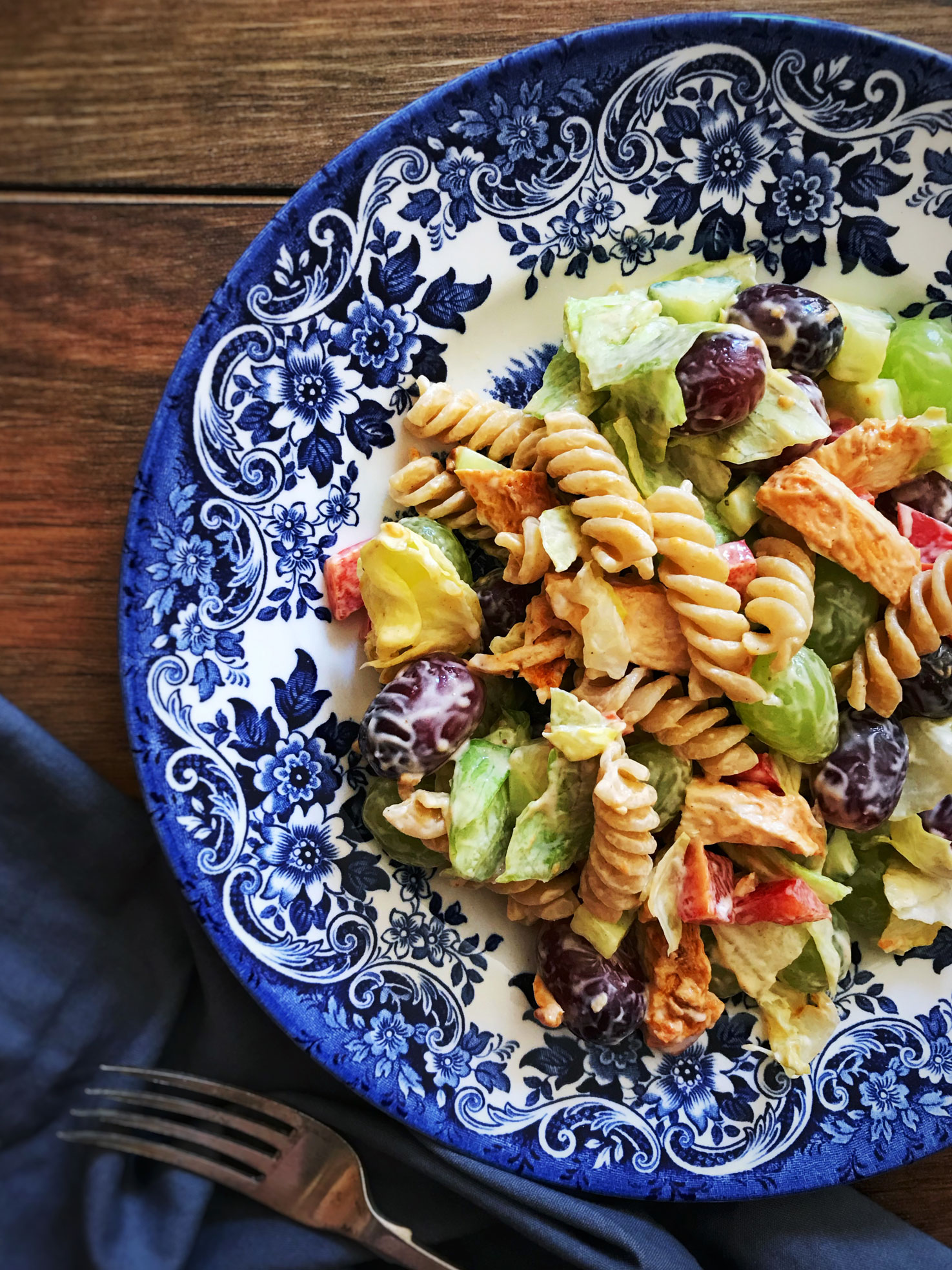 I once made roast chicken but a full on tandoori roast chicken! Oh yeah! I couldn't believe it myself I bought a full chicken from my local supermarket and de-skinned it and then marinated it with tandoori spices and I must tell you that was one of theee best tandoori I have ever had. So did my husband 😋 and the left over pieces bones which still had some meat left in it, I scraped it out and made this salad with it.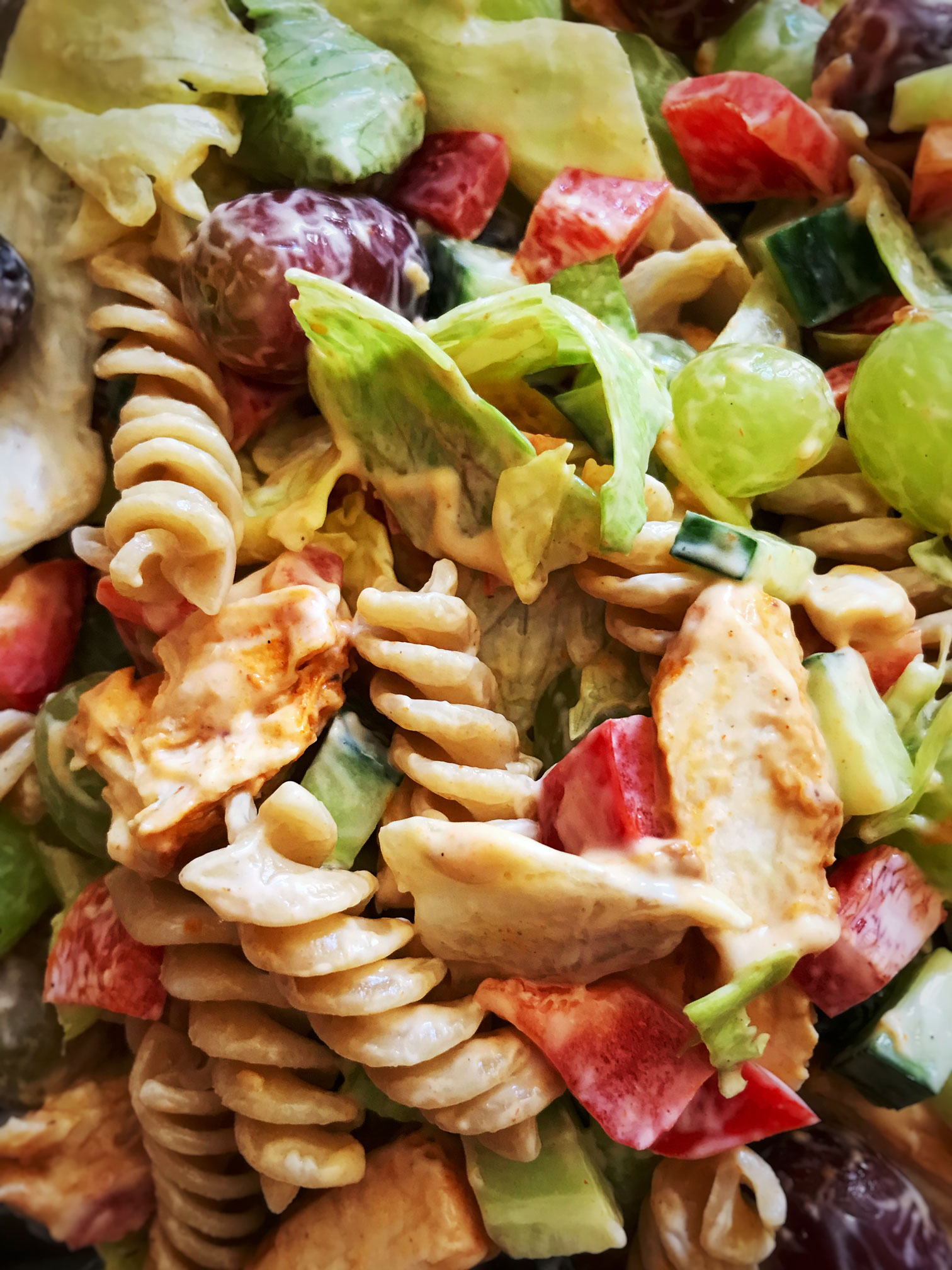 This recipe I am keeping it simple with the marination, used just basic cupboard spices and did not use yogurt, unlike the traditional tandoori chicken. If you plan on going out for a picnic, this is perfect on a warm sunny day. Use a skillet or a griddle pan to fry the chicken, those little charged bits add even more flavor to the salad.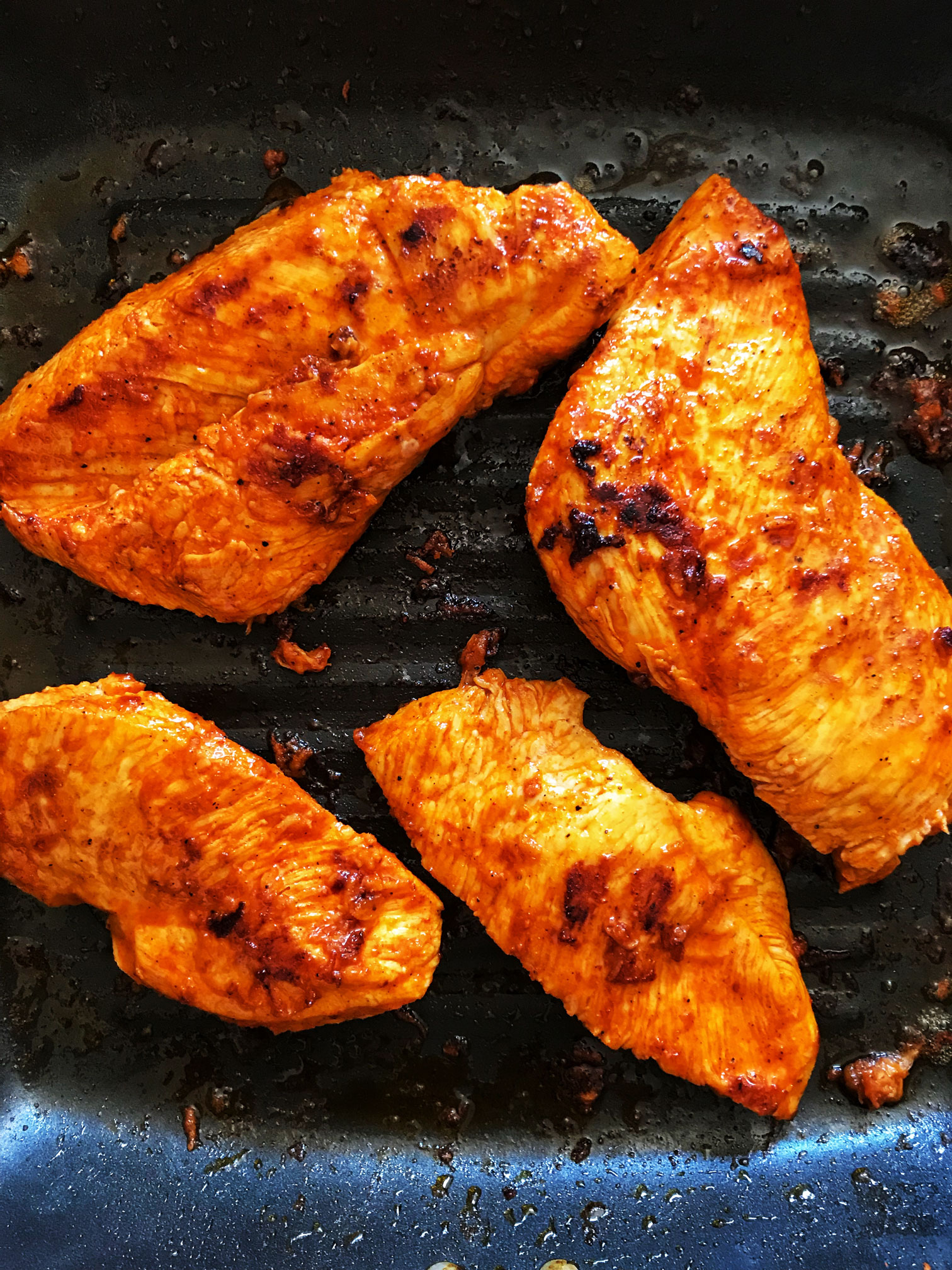 Indian spiced chicken and pasta salad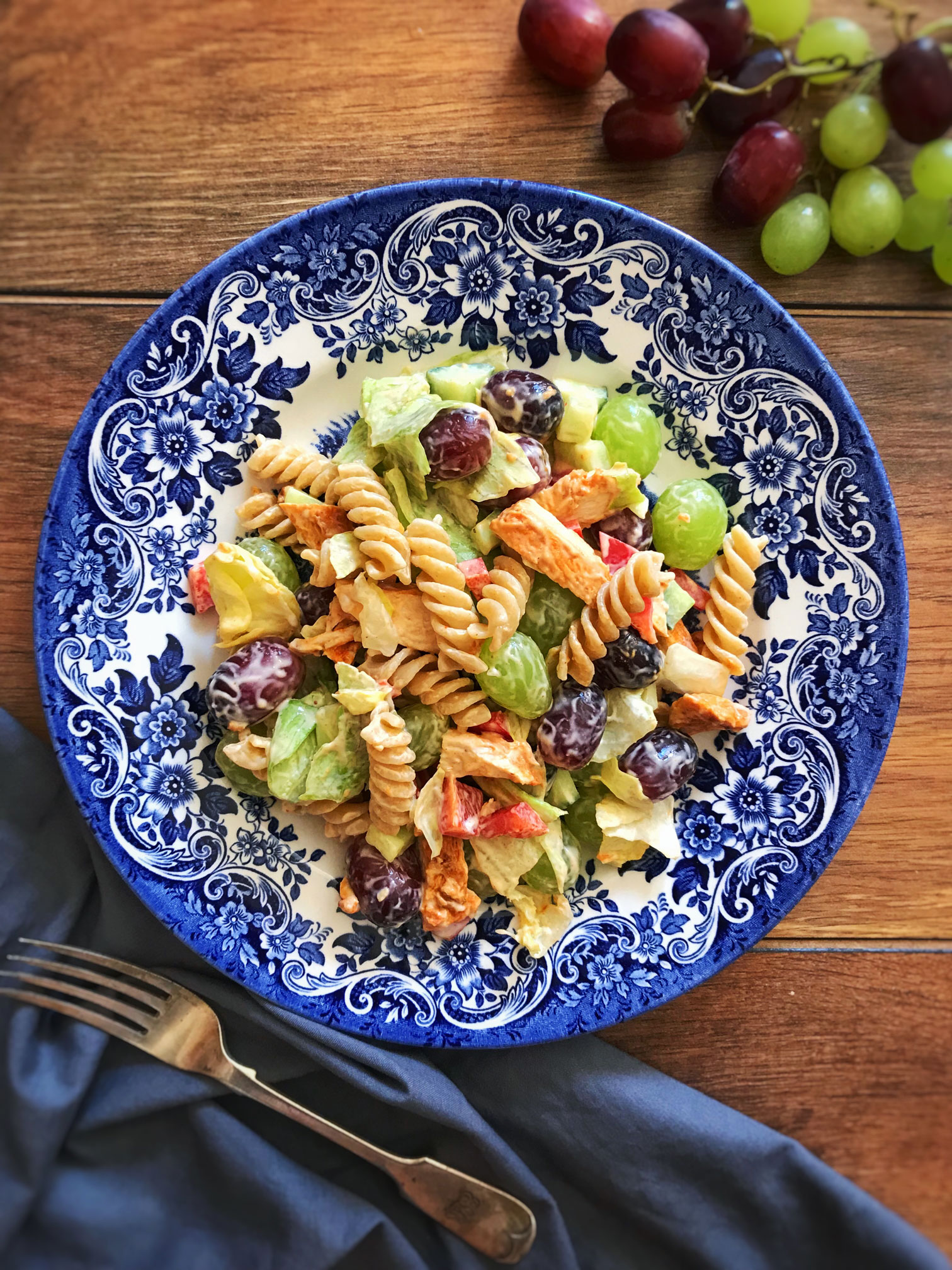 INGREDIENTS
For the salad

2 chicken breasts
100 grams wholewheat pasta (penne, fusilli kind)
250 grams seedless purple and green grapes
1 red or yellow pepper chopped
Half fresh cucumber chopped in small pieces
1 vine tomato chopped
200 grams iceberg lettuce chopped
6 tbsp light mayonnaise

For the chicken marination

1 tsp Kashmiri red chili powder or paprika
1/2 tsp of cayenne pepper if you want it more spicy
1/2 tsp ground pepper
1 tsp cumin powder
1 tsp coriander powder
1 tsp turmeric powder
1/2 tsp garam masala powder
1 tsp fresh ginger and garlic paste (grate one inch of ginger and one big clove of garlic)
Juice of one lemon, half if it's big one
1 tbsp ghee or oil for frying the chicken
pink Himalayan salt to taste
instructions
Slice the chicken breasts into half, mix all the ingredients of the marination and set aside for 15 mins to half, or even overnight.
Make the pasta as per the package instruction and set aside on a plate to cool down.
Heat a tbsp of ghee on a griddle pan or a cast iron skillet. Add the chicken and fry until nicely done, flipping every now and then. This might take about 15 to 18 mins.
Once the chicken is done chop it into small pieces and let it fully cool down.
When the chicken and pasta has fully cooled down, add it with the rest of the ingredient into a large salad bowl and give it all a good stir.
Serve cold and enjoy.
Can be refrigerated in an air tight container for the next day.