Pumkin spiced whipped coffee with whiskey
Whiskey and coffee is a match made in coffee and whiskey heaven :) or should I say Ireland and hold your breath, this is not just any whipped coffee with whiskey, this one is a beautiful Pumpkin spiced deliciousness!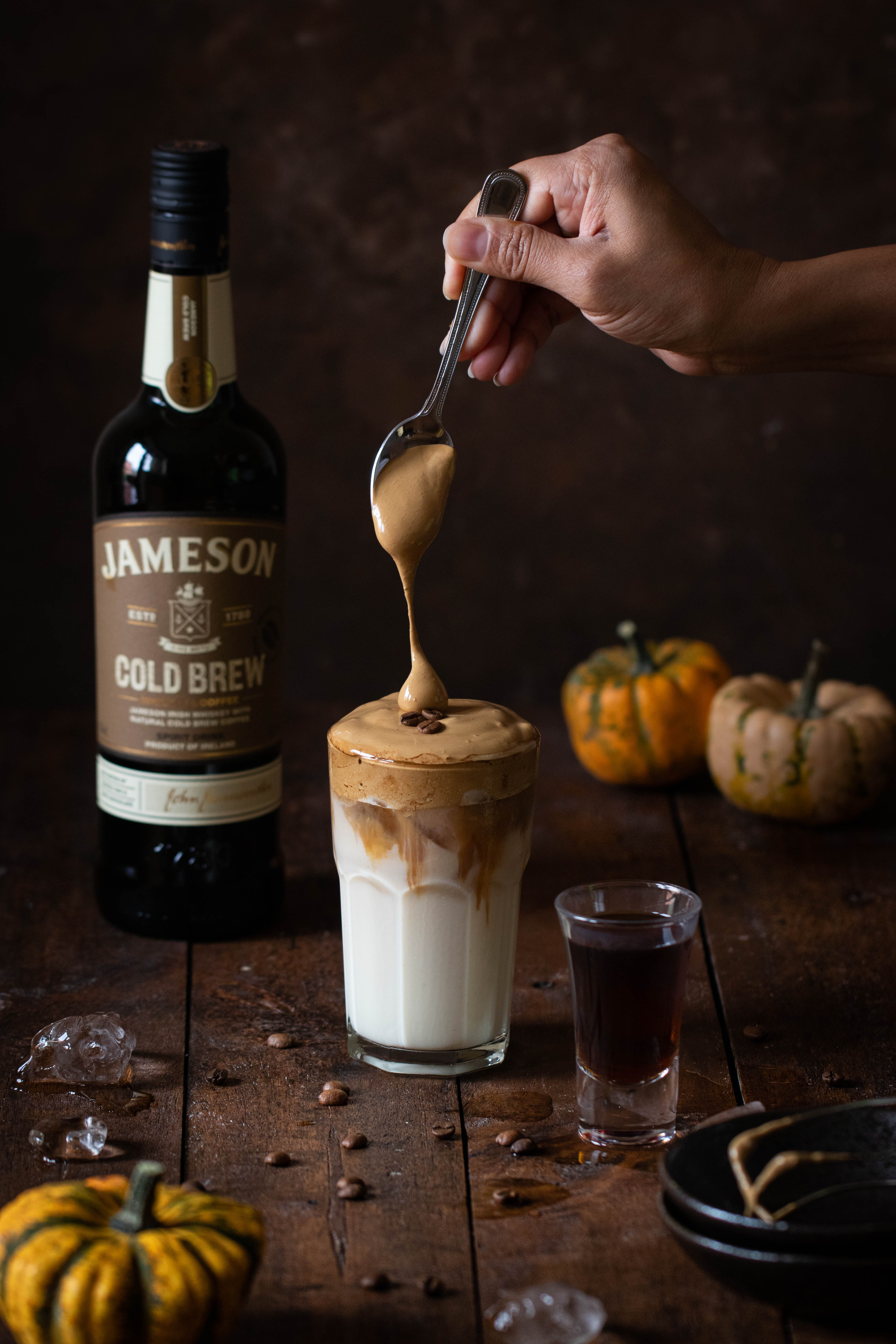 When Jameson launched their brand new Cold brew they very kindly sent me one as a gift to try and let me tell you I was sold instantly! So smooth taste of triple distilled Jameson and the richness of natural cold brew coffee flavor into one bottle, made with made with Arabica beans from Brazil and Colombia with no added sugar. Read more here.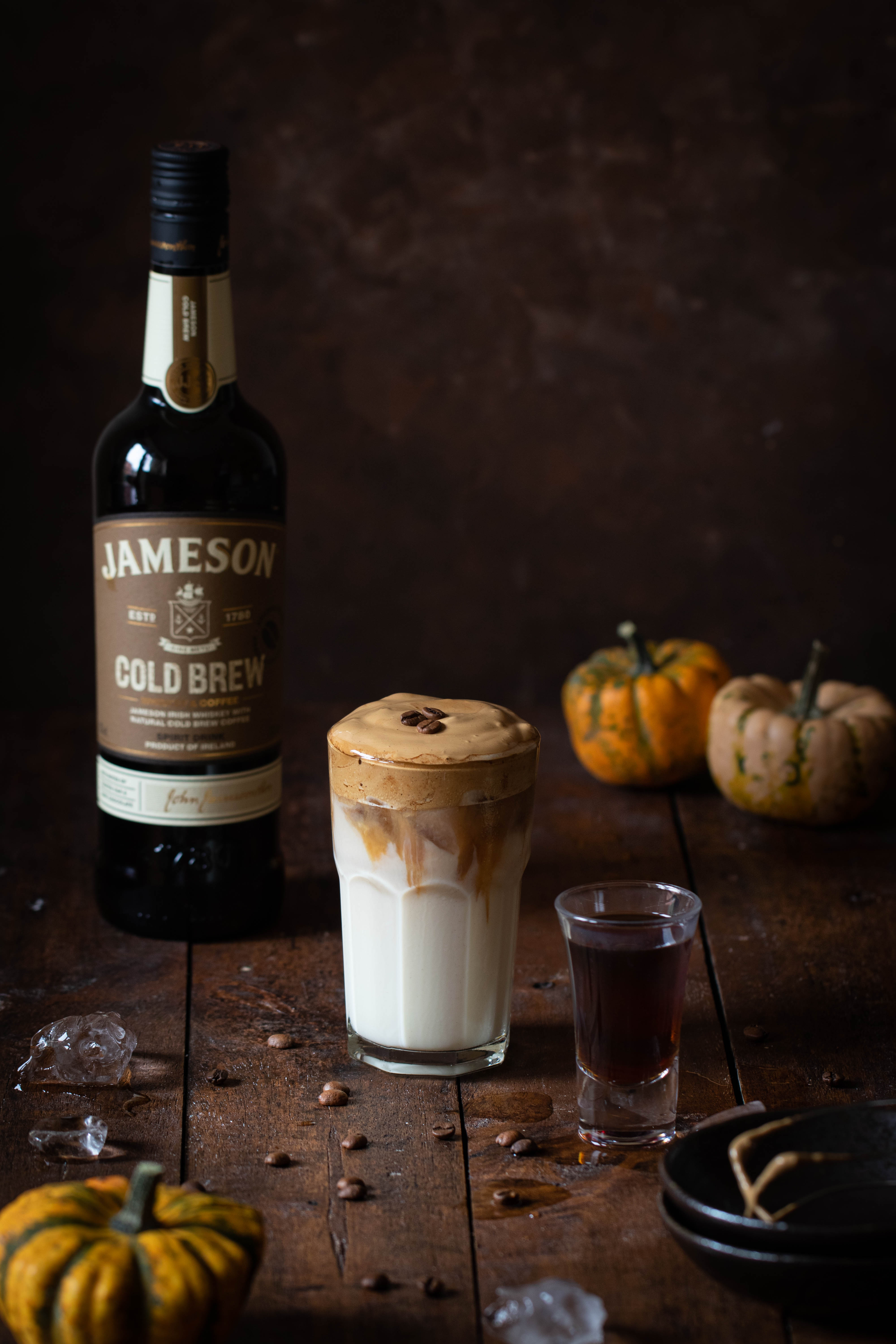 Enjoy this gorgeous product with ice or add it to this beautiful coffee like I made the taste was absolutely delicious! Perfect even on a cold day, so refreshing.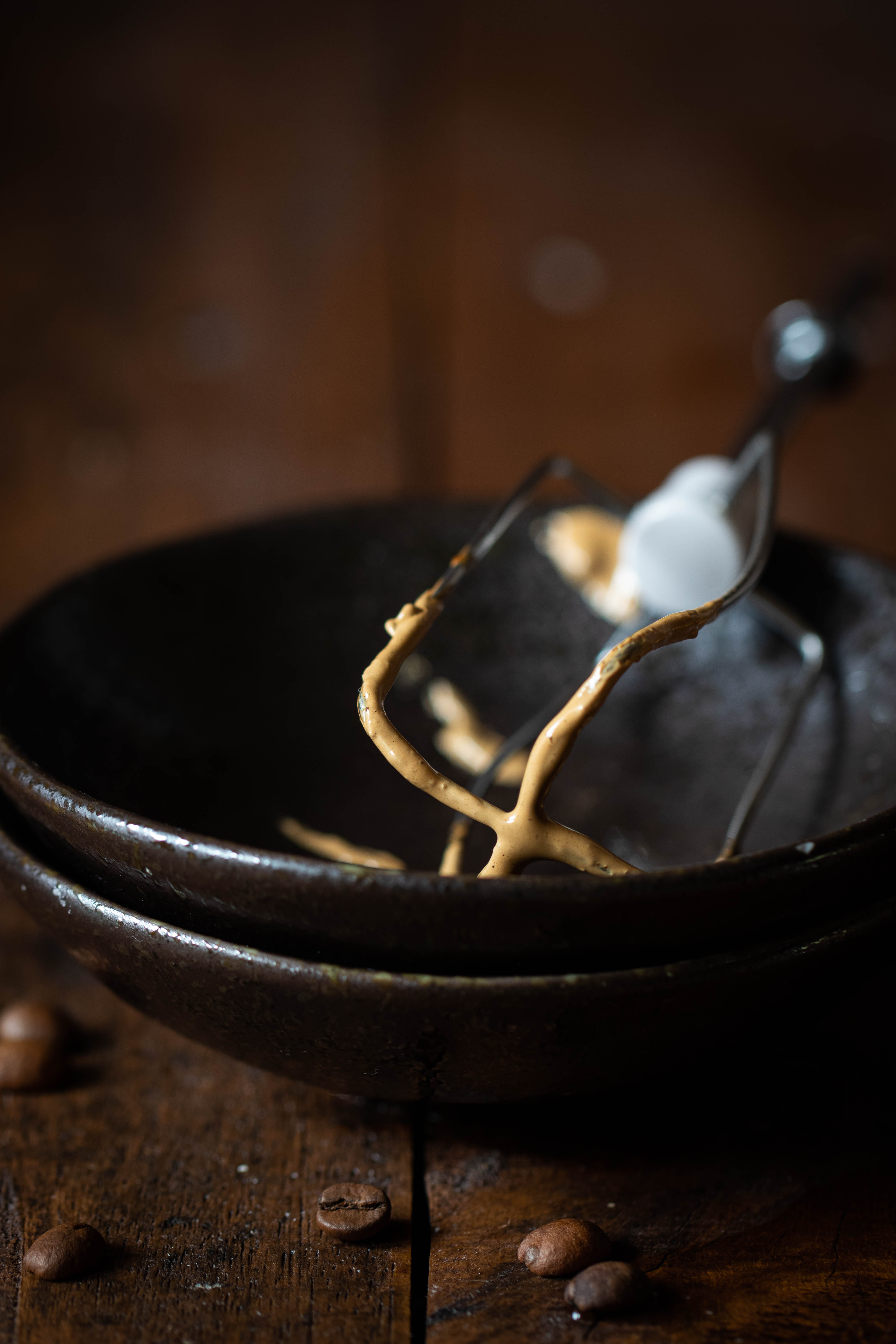 Few things to consider -
You can use any milk of choice, I used normal cows milk, you can try it with any plant based milk too.
I have used this - pumpkin spice. If you don't have it you can add a 1/4 tsp of ground cinnamon, pinch of nutmeg, pinch of ginger and pinch of clove. Will give you a similar taste. It is just easier to add 1/2 tsp of ready available pumpkin spice mix.
Be patient while beating the coffee powder, it will take a couple of mins to become creamy and whipped cream like, blend on high speed to get the results.
Before drinking give everything a good mix, otherwise it will taste way too sweet just at the top, when you stir well it all be combined well and the taste is evenly spread out.
I have used a tall glass to serve and used 350 ml milk between two glasses, so the amount of milk might depend on the size of the glass that you use.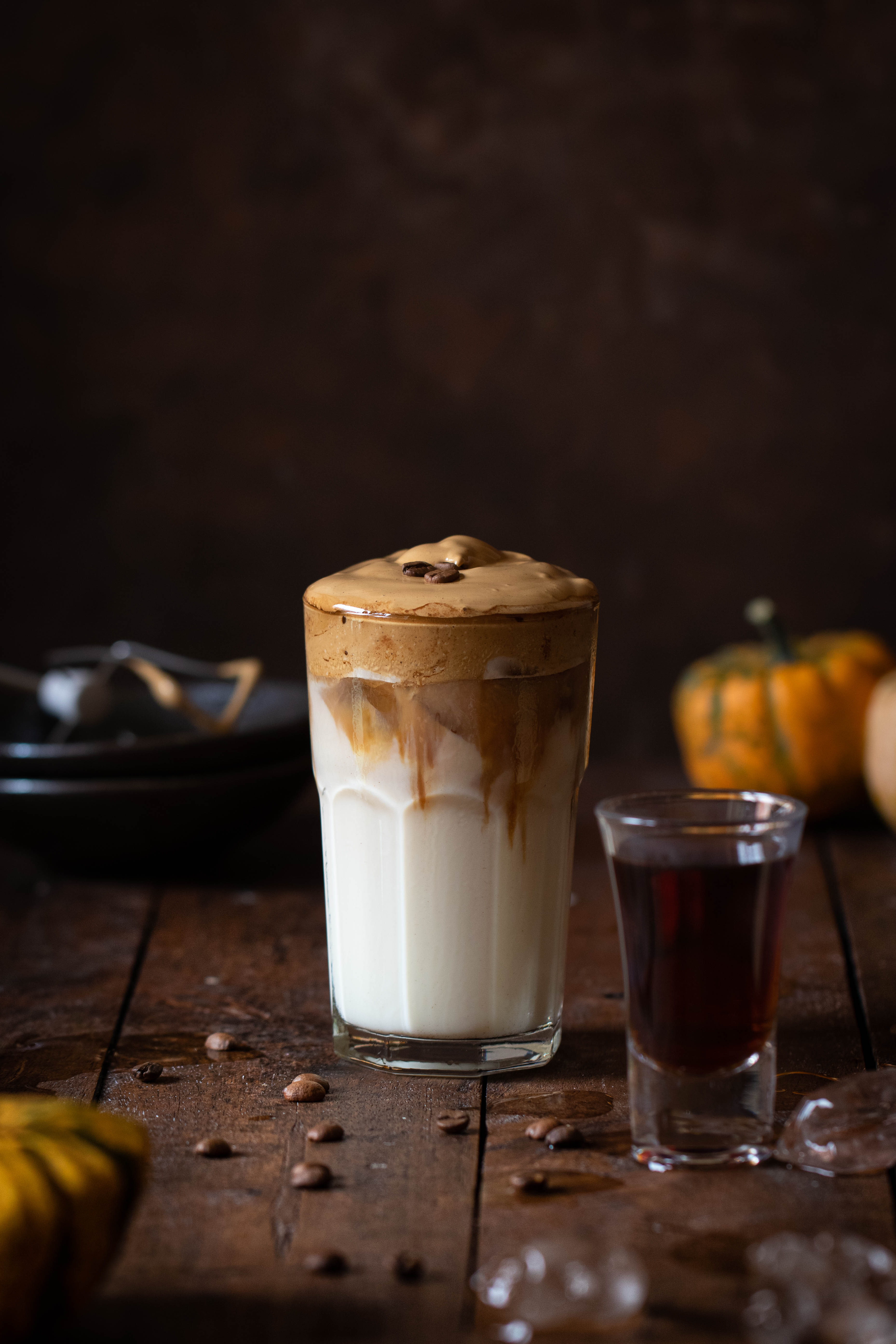 You might also like -
I hope you like it, let me know if you try this and please do remember to use my hashtag #soulfulandhealthy and share it with family and friends.
If you liked what you saw here, please feel free to share it with family and friends. You can find me on Facebook, Instagram, Twitter and Pinterest
Hugs
S :)
Pumkin spiced whipped coffee with whiskey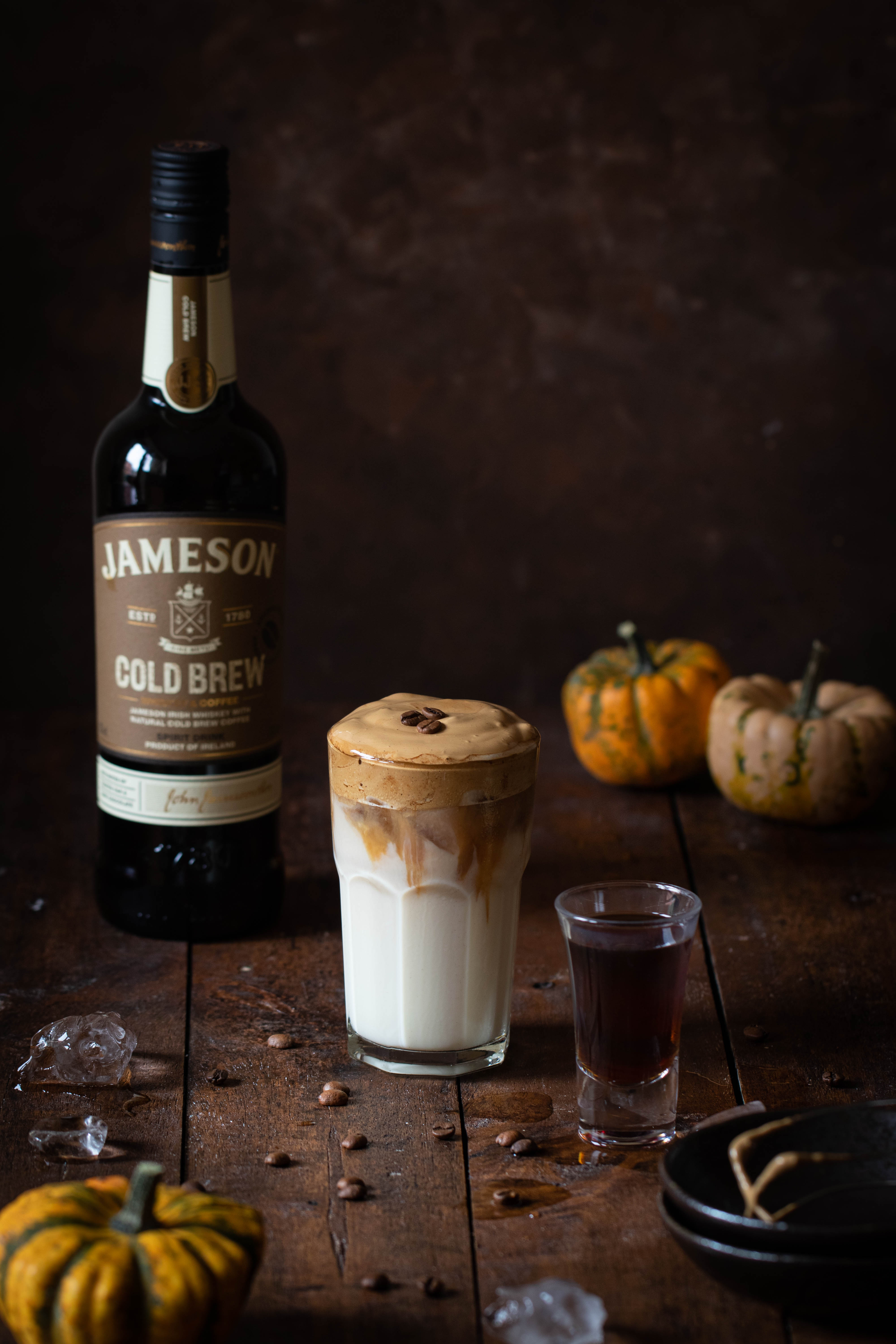 INGREDIENTS
or the whipped coffee-

2 tbsp instant coffee powder
2 tbsp granulated white sugar
2 tbsp hot water
1/2 tsp Pumpkin spice

To serve

350 ml milk
Ice cubes to serve (optional)
2 Tall serving glasses
2 shot Jameson Cold brew
instructions
Add the coffee, sugar and water in a medium glass bowl, and using a hand blender, whisk the ingredients on medium-high speed for about 4 to 5 minutes until you have soft peaks. If you do not have a hand blender then you can use a wire whisk, but it takes a little more time and effort the manual way!
In a tall glass, add the ice cubes, divide and pour the milk into two glasses , add the whiskey and then using a spoon to scoop the whipped coffee mixture on top and serve right away. enjoy!