Mangalorean Lamb Ghee Roast - SP
This is a traditional Mangalorean recipe (South Indian), I can truly say this is my most favourite curry ever! This curry is gorgeous in flavours, made with ghee and spices blended with tamarind, i just can't get enough of this, mouth watering indeed.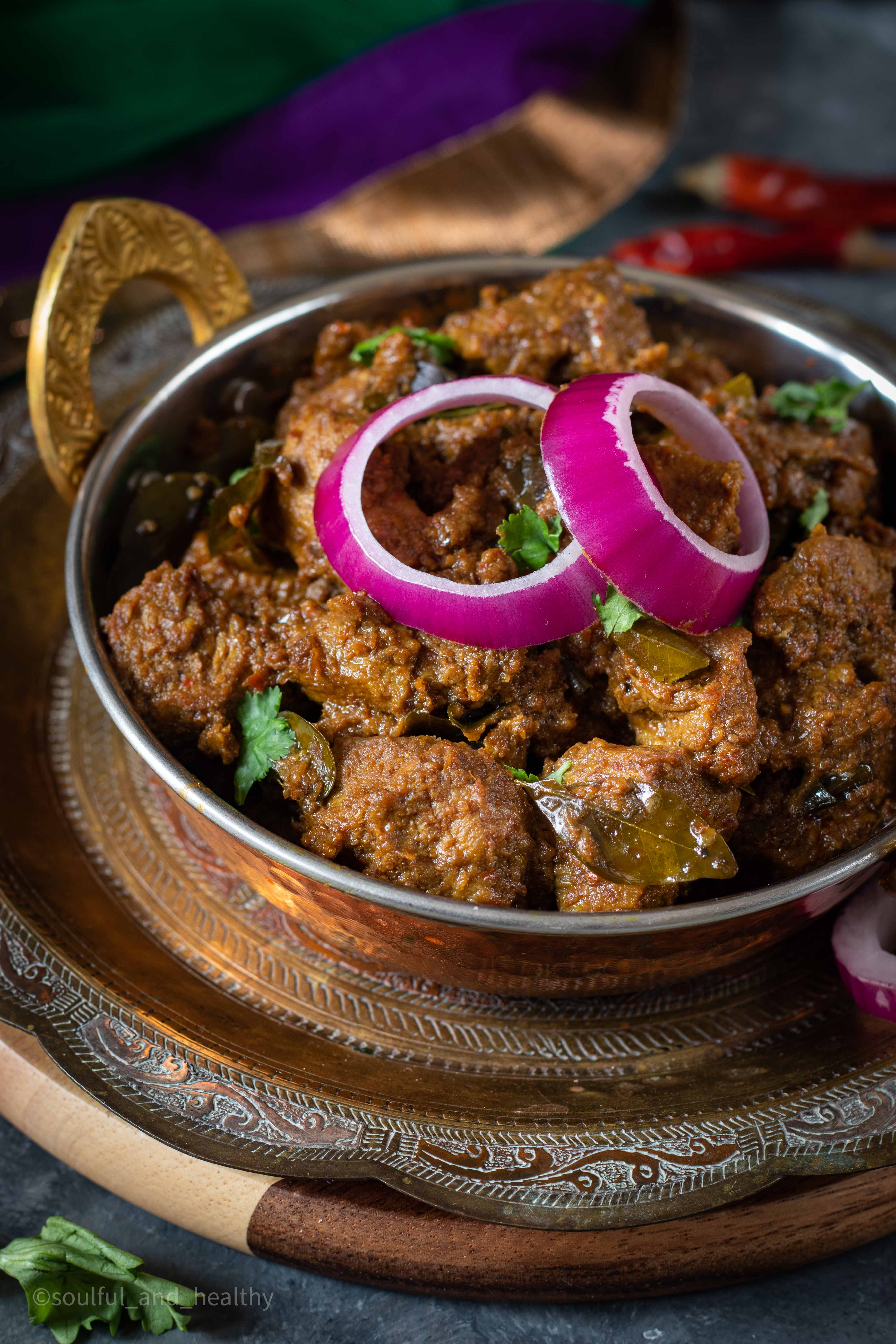 I remember every time my Mom made this curry I literally licked my fingers and plate clean. I love the spices that come together in this recipe, with a hint of tanginess in it makes it so very different and simply beautiful. The spices are dry roasted first and then blend into a masala, that's what makes this so delicious.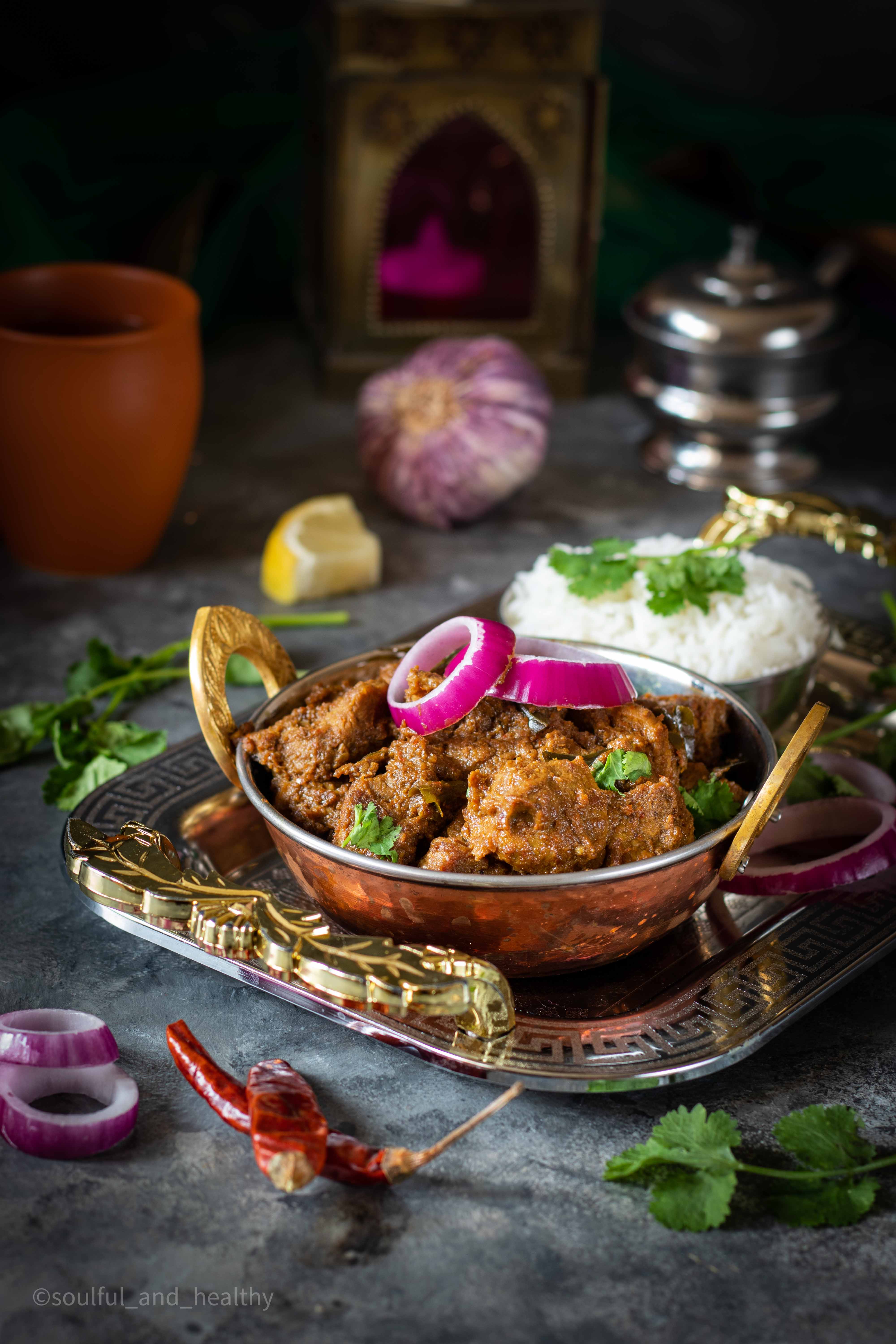 I chose European diced lamb to make this traditional recipe and I was so happy with the way it turned out, my husband said it took him back to India :) I too remembered the same taste the way my Mom used to make it.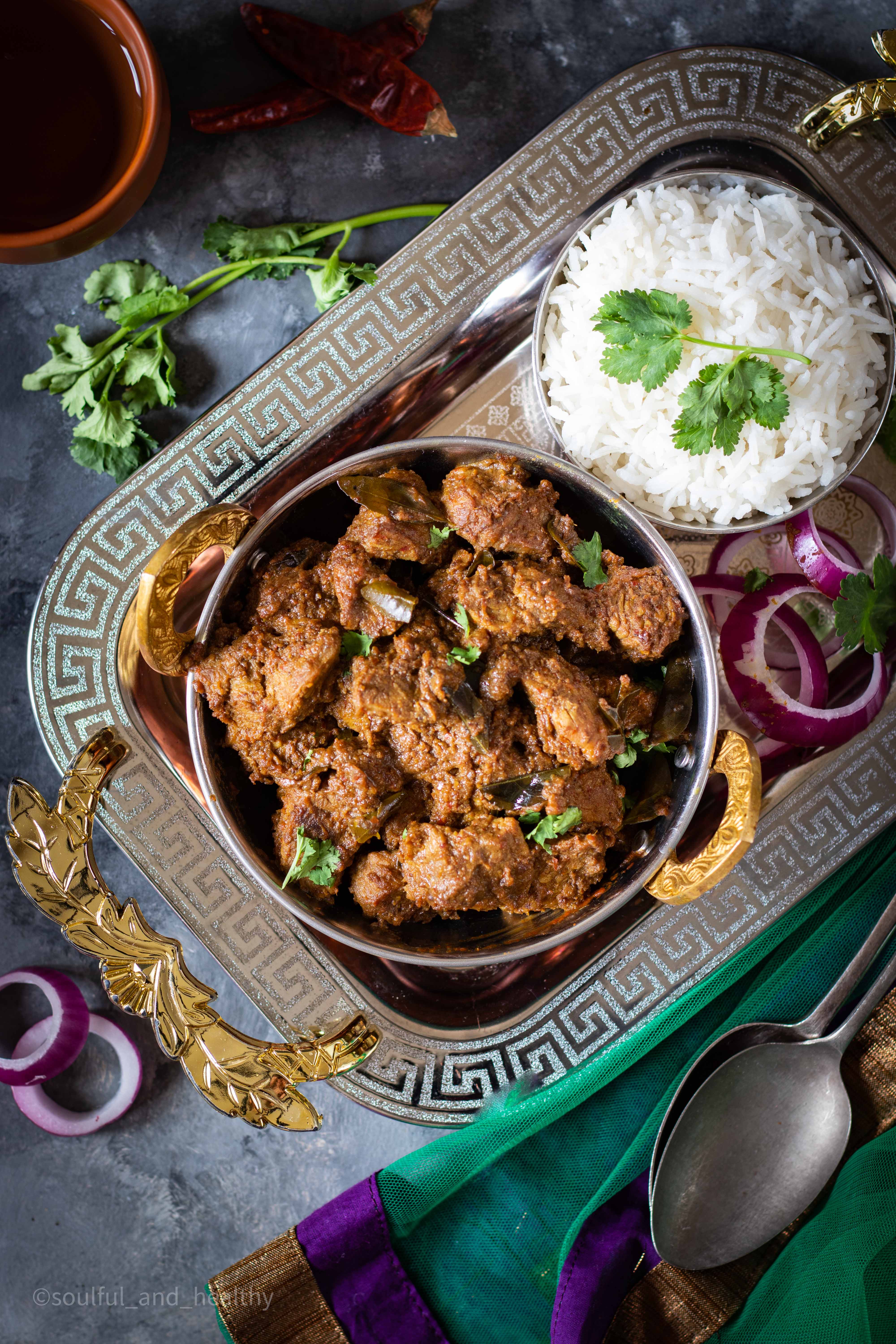 Ask your butcher to dice and clean the leg of lamb for this recipe, when cooked in the beautiful spices the lamb tastes so good. The traditional recipe is a bit on the spicy side, you can however alter the heat according to your taste and liking. It has to be dried red chillies only for this recipe since you have to dry roast them first along with rest of the spices and blend into a fine masala paste, you cannot use raw red chillies it will not be the same.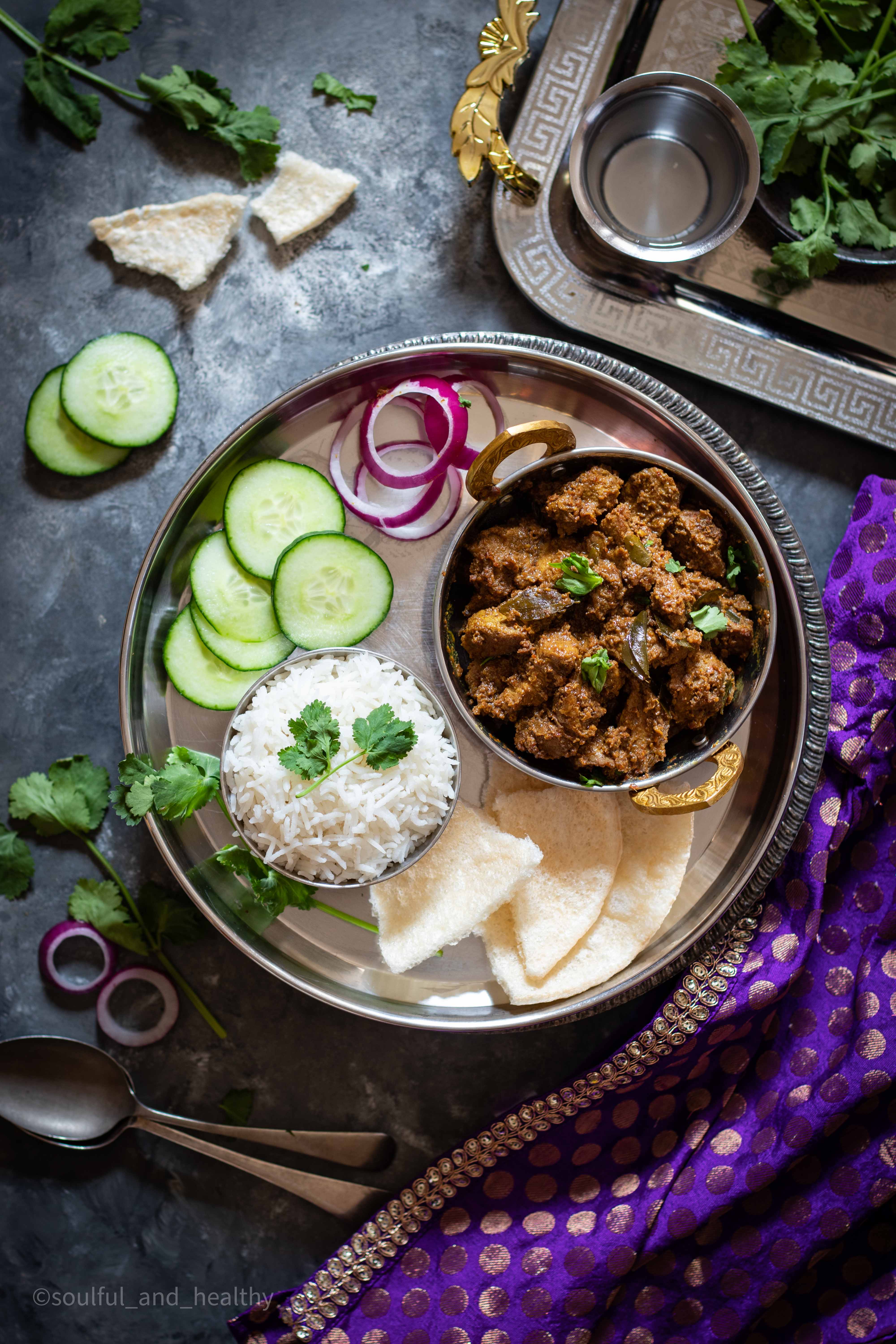 The base of this recipe is Indian ghee or clarified butter and I have a simple recipe on how to make ghee at home, you can use oil for this but it might not give you the same taste as it should, since the name of the recipe itself says Ghee roast. You can find the recipe how to make GHEE at home here.
All the ingredients used here the spices are all available in any Asian stores all across Ireland, I buy mine as well here in Dublin.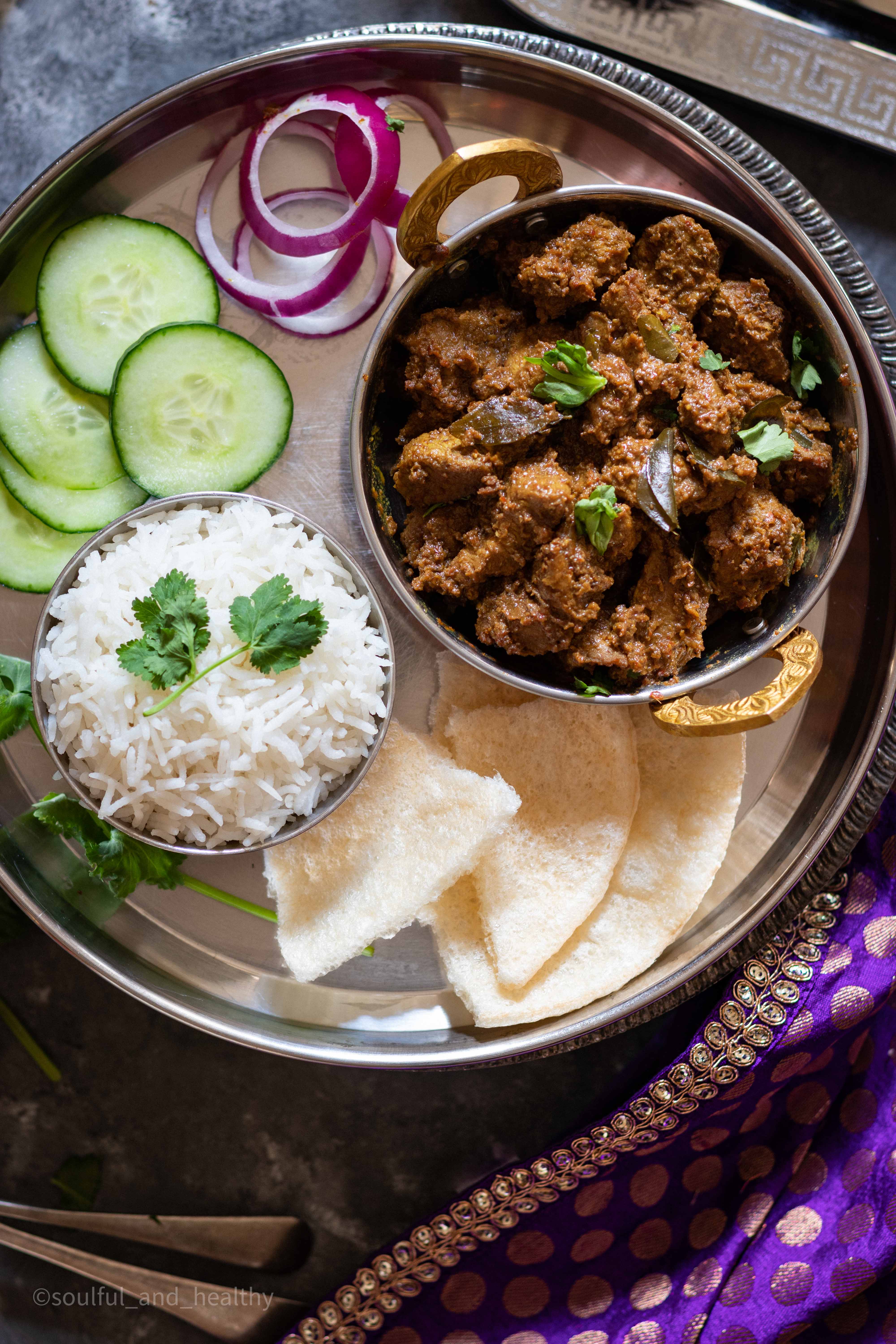 This post is sponsored by European Lamb, I have created this recipe for them to promote cooking with European Lamb. Follow the campaign online at Facebook/Try Lamb and Instagram/Trylamb or visit www.trylamb.ie for more information.
I hope you enjoy this as much as I did, please let me know if you try this do leave a comment below. Do remember to use my hashtag #soulfulandhealthy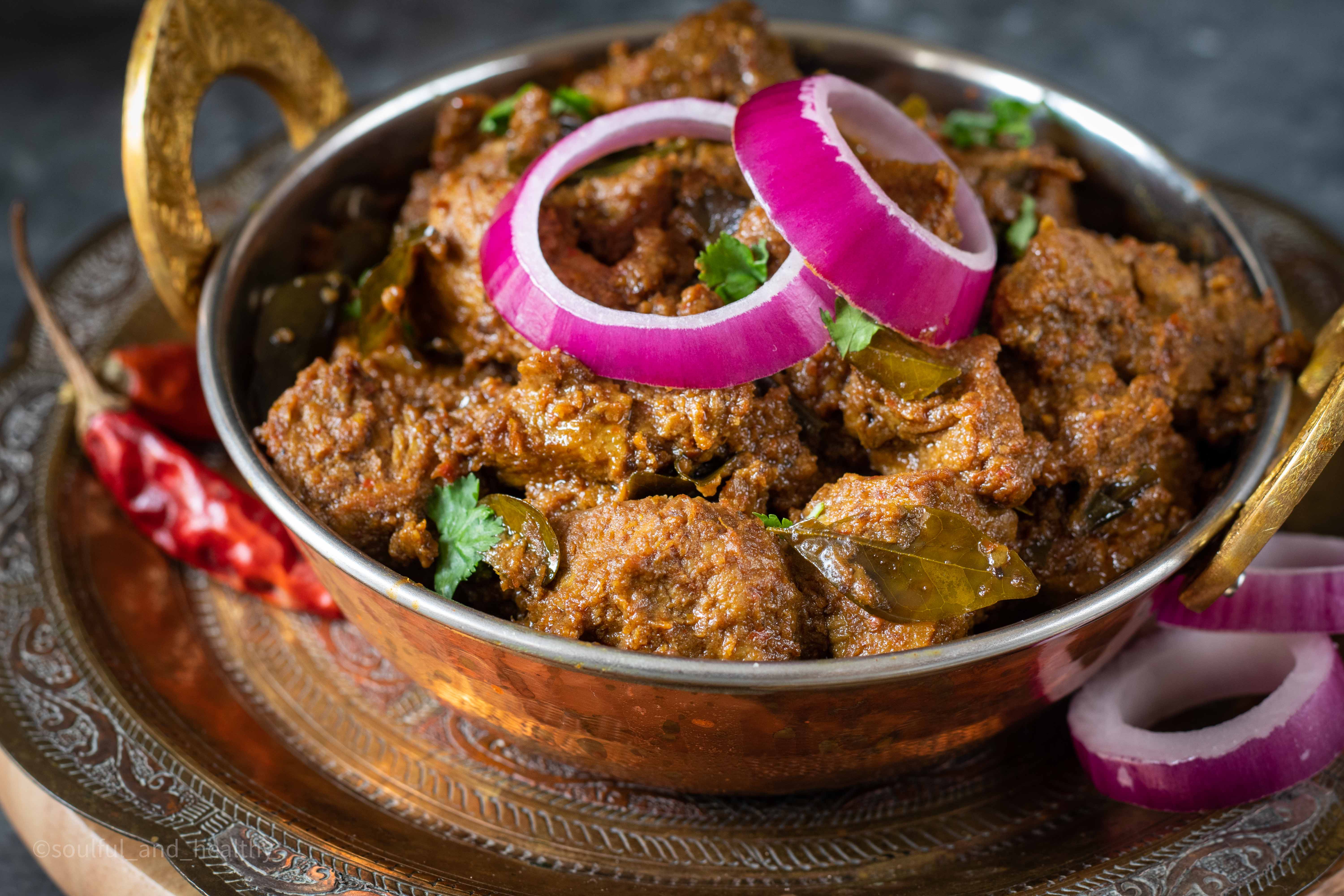 If you liked what you see here, please feel free to share it with family and friends. You can find me on Facebook, Instagram, Twitter and Pinterest
Love
Shilpa
Mangalorean Lamb Ghee Roast - SP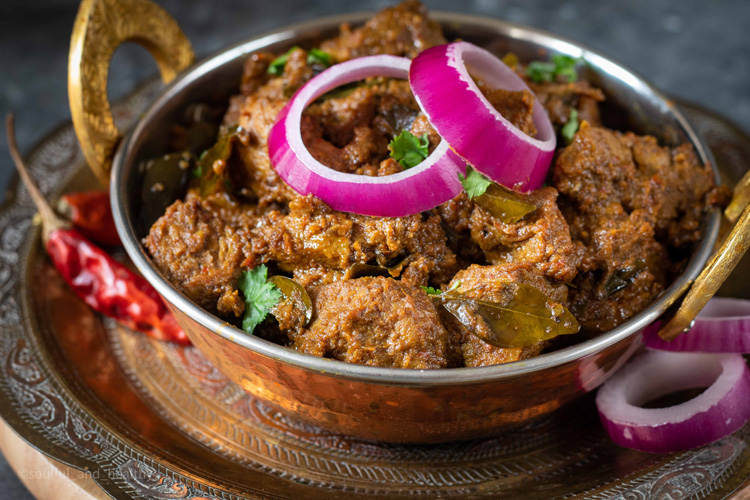 | | |
| --- | --- |
| Servings: | Serves 2 - can be doubled |
INGREDIENTS
Ingredients

500 grams diced leg of lamb

To marinate -

¼ tsp chilli powder or mild chilli powder
½ tsp of ground turmeric
1 tbsp lemon juice
1 tbsp natural yogurt
Pinch of salt

For the curry -

10 to 12 fresh Curry leaves
2 to 3 tbsp fresh ghee
1 tsp brown sugar or jaggery
2 tbsp Tamarind paste (take about two inch of tamarind and mix it with ¼ cup hot water, mash well, use this paste - you can add more as per your taste later)

To blend into masala paste -

4 to 5 Dried red chillies (Pls reduce to only 1 or 2 if you want it mild)
1 tbsp coriander seeds
¼ tsp cumin seeds
2 to 3 whole cloves
5 clove of garlic
8 pepper corns (reduce if you don't want heat)
1 pinch of dried fenugreek seeds
½ cup water to blend
instructions
Marinate the diced lamb with the ingredients mentioned under marination for at least an hour.
Using a non stick pan, dry roast (without any oil) red chillies, coriander seeds, cumin, cloves, pepper, fenugreek seeds. Let it cool down a little, add water and blend into a fine paste. Get all of the ground masala out of the blender by adding a splash of water. Set aside.
Heat ghee on high heat in a heavy bottom pan, add the marinated lamb and stir fry for just about two to three minutes, only until the lamb changes colour on the outside, do not over cook at this stage, remove from the pan and set aside.
In the same pan, add a tbsp more ghee if needed and add the ground masala paste, add the curry leaves, cook the masala, on medium heat for a few mins until the raw smell goes away, this will take about 3 to 4 mins. Add about 2 tbsp of water if needed.
Now add the fried lamb pieces, toss well, make sure all the masala is well coated to the lamb, now add the tamarind paste, brown sugar and salt as per taste. Taste the curry and see add more of the tamarind juice if needed as per your taste and liking.
Cover with a lid and let the lamb cook completely for 15 to 20 mins. If there is still some liquid from the meat, remove the cover, just increase the heat and let the water dry out a bit, this is not a recipe with a lot of gravy, it is semi gravy.
Serve with basmati rice or naan of choice.