Chocolate brownie bars with blueberry chia jam
Chocolaty deliciousness made the super healthy way, no added sugar, diary free, can be easily made vegan (swap the eggs to chia eggs) and gluten free by replacing oats to gluten free, with a layer of tasty chia blueberry jam, takes these brownies to a whole new level. Perfect for any occasion, especially if you want healthy treats during Christmas :)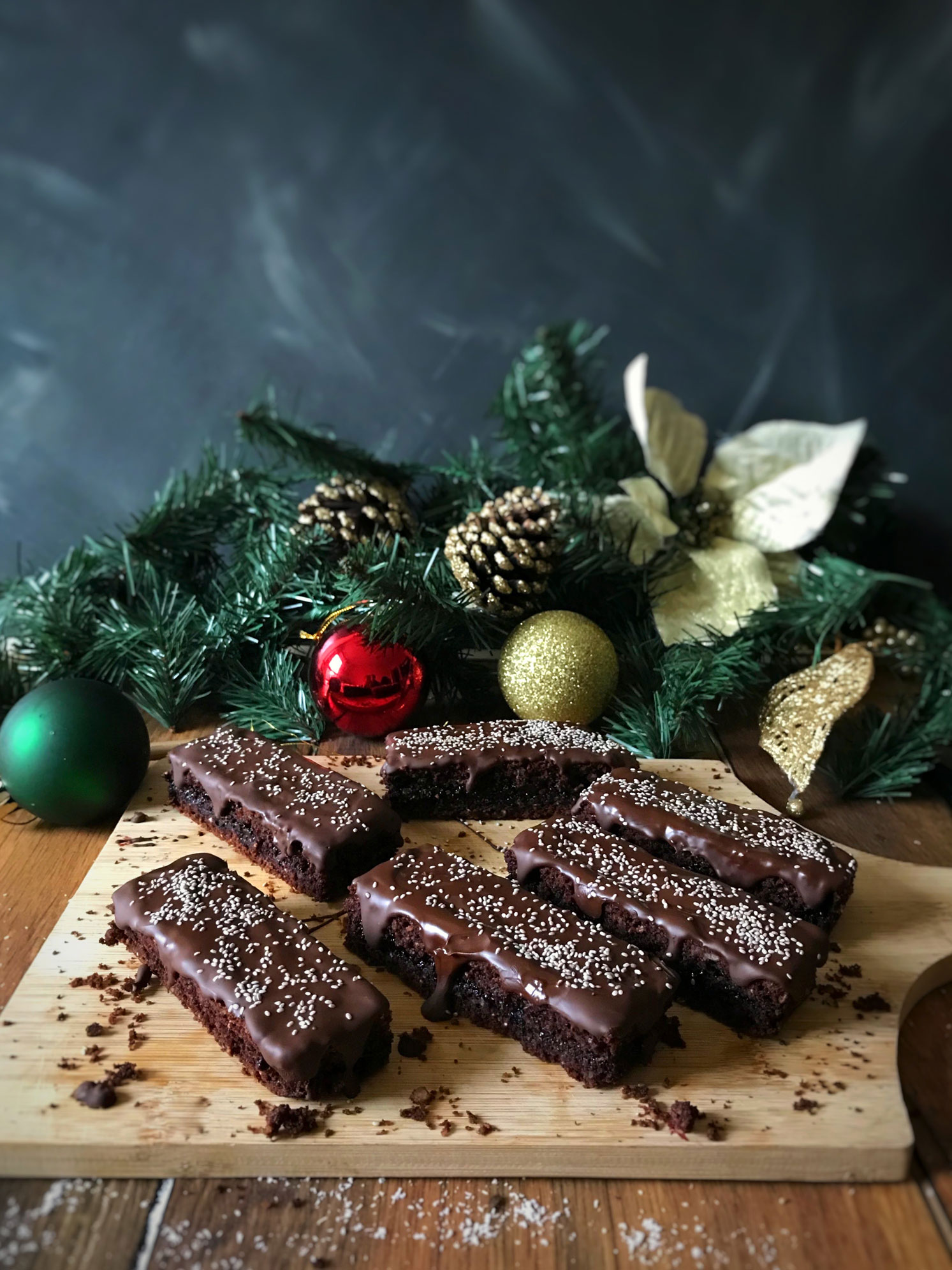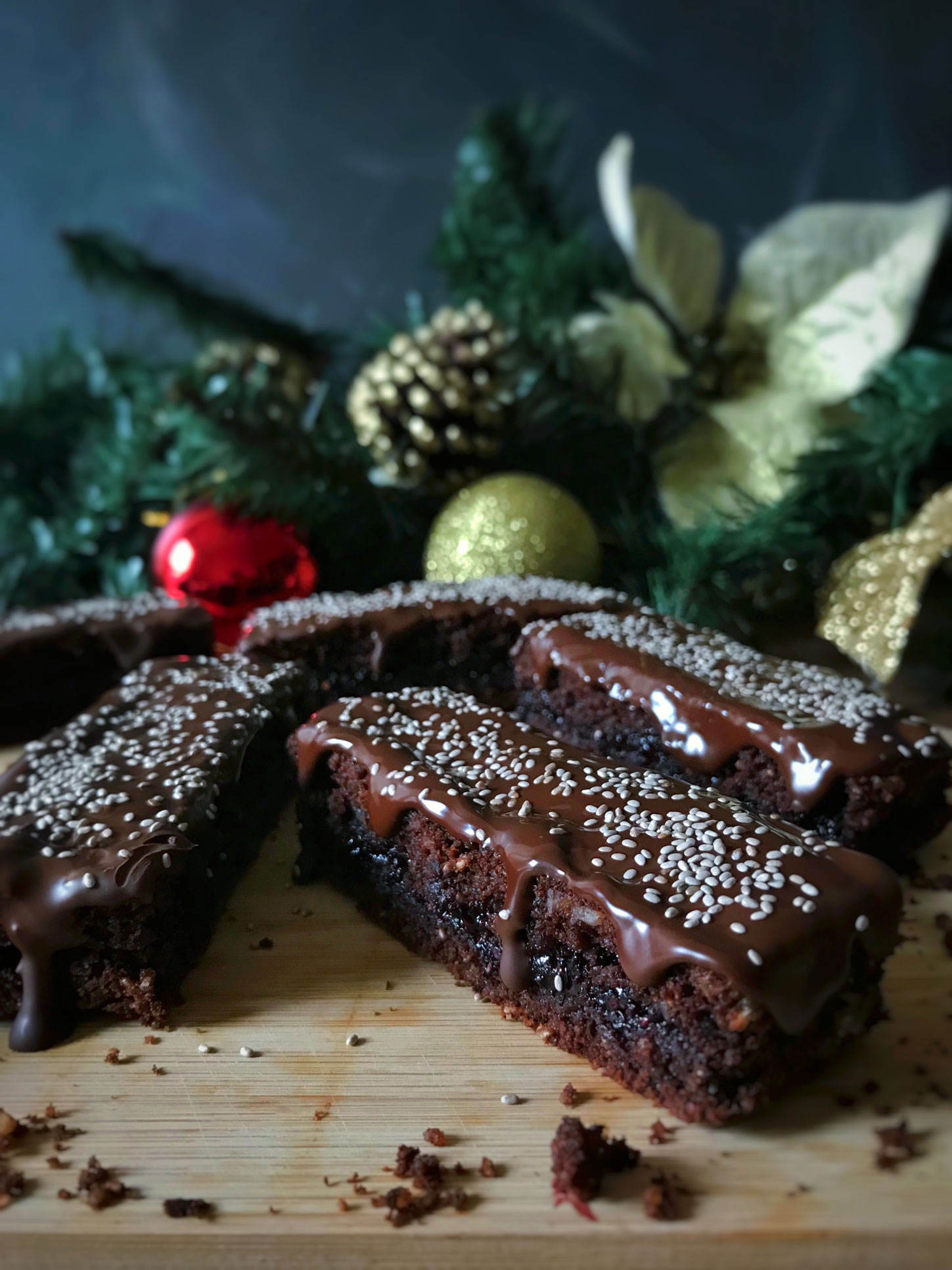 It was husbands idea to make them into bars instead of the usual square brownies :) and yes they did turn out so so delicious. This is another recipe I wrote for the ever so lovely Chia Bia team :)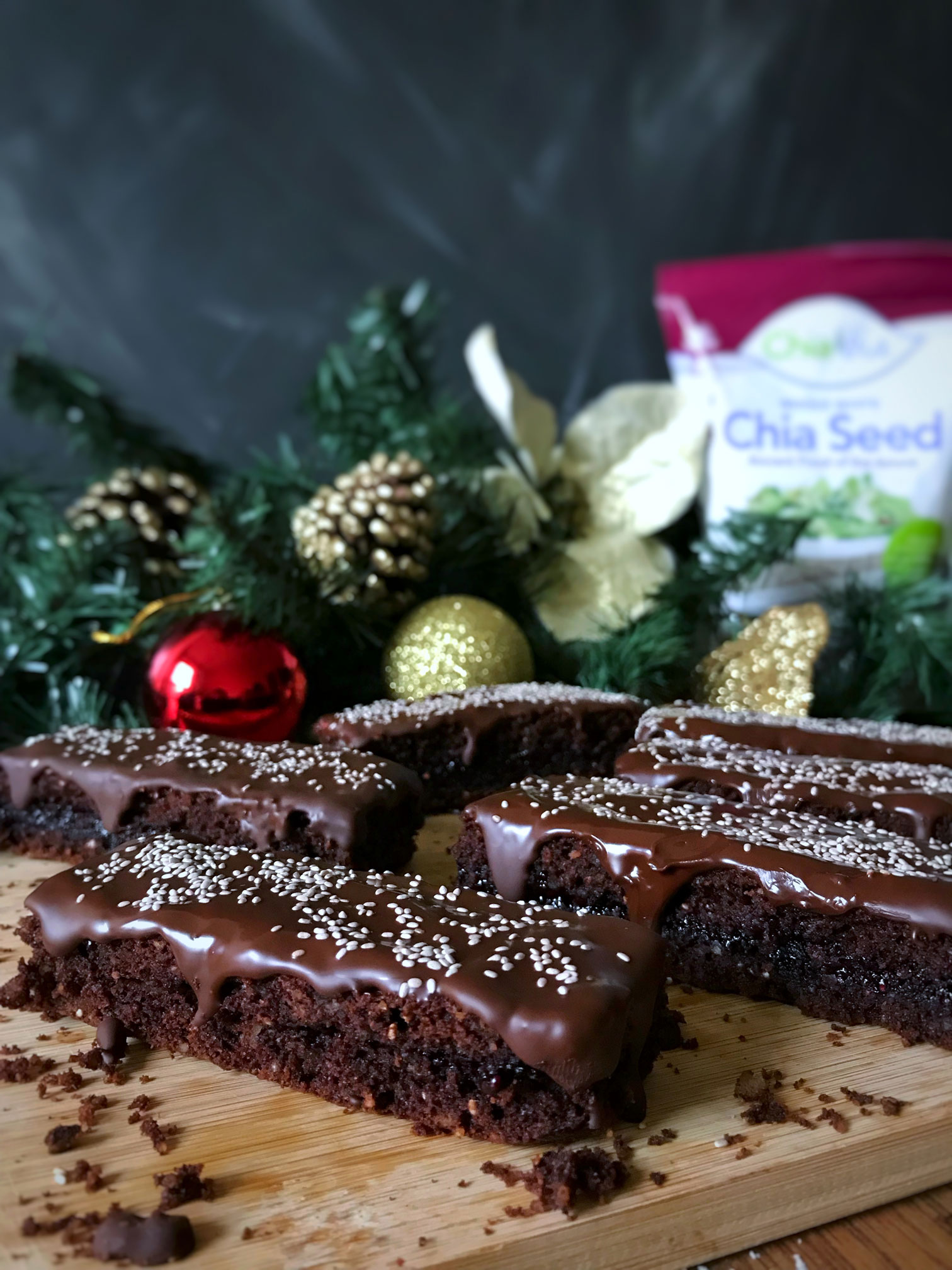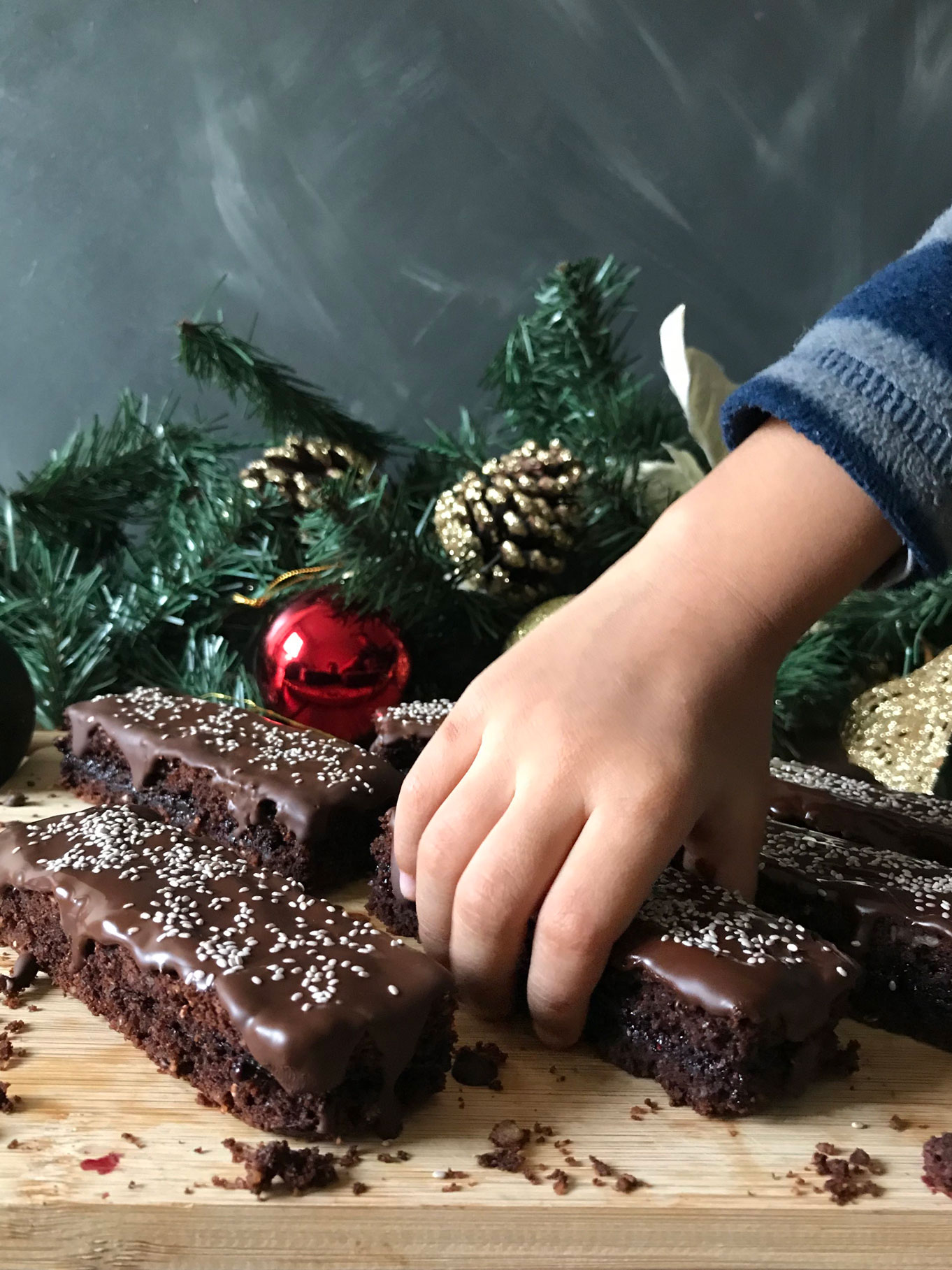 Chocolate brownie bars with blueberry chia jam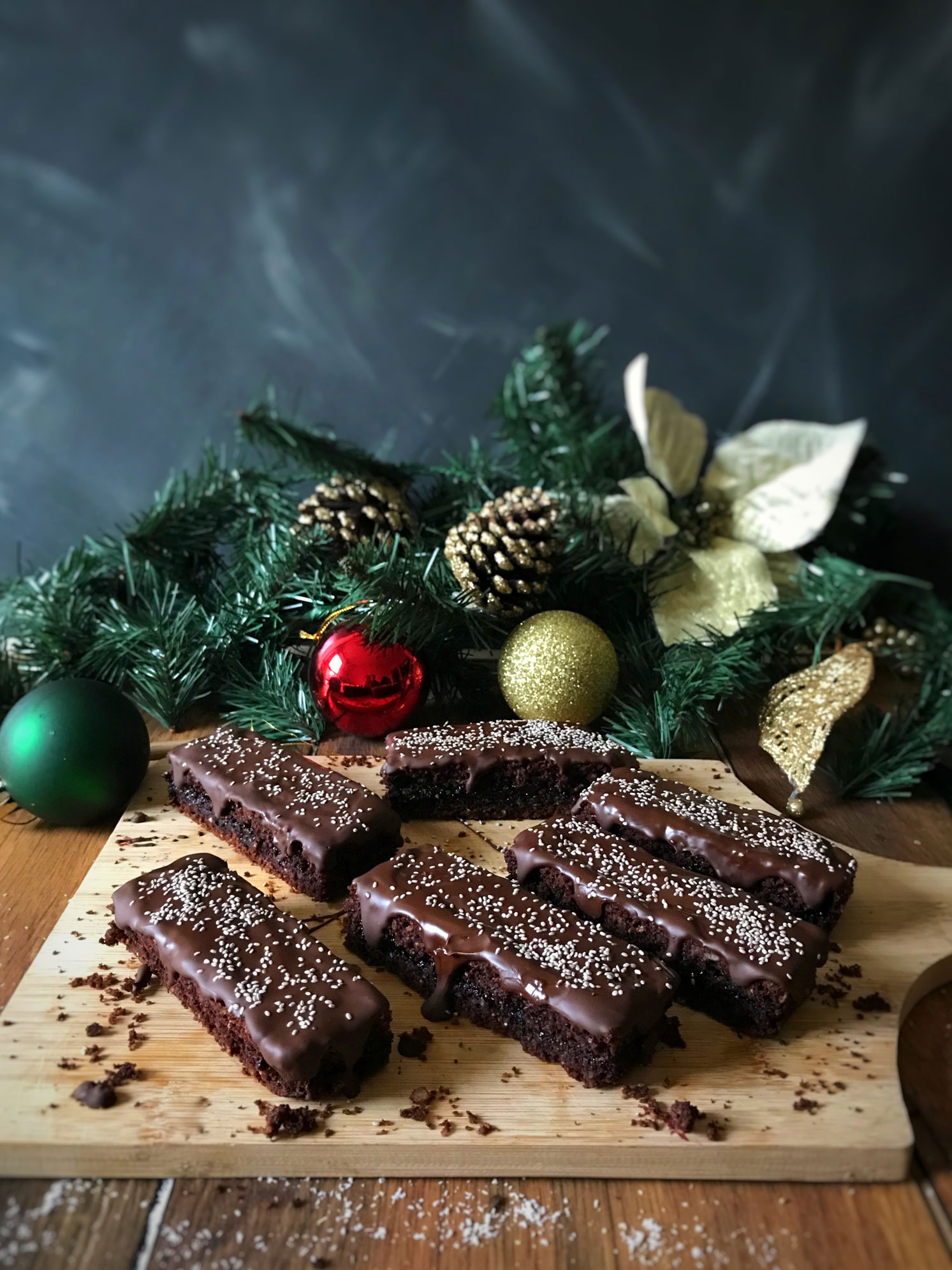 INGREDIENTS
Dry ingredients

60 grams ground almond
100 grams oats flour
70 grams pecans or walnuts
1/2 tsp ground cinnamon
1/2 tsp salt
40 grams organic cocoa powder
1 tbsp whole white chia seeds
1/2 tsp baking soda
1 tsp baking powder
pinch of Himalayan pink salt

Wet ingredients

60 ml organic coconut oil melted
80 ml unsweetened almond milk or milk of choice
3 eggs
1/3 cup honey
1 tsp vanilla essence

To decorate

200 grams of good quality dark chocolate (swap vegan and diary free chocolate chips)
Whole white chia seeds for sprinkling

Blueberries chia jam
instructions
Method

Pre-Heat the oven to 180 degrees Celsius, Line a 9 inch X 9 inch square brownie pan with parchment paper.
Blitz the nuts in a food processor or a pestle and motor into small pieces.
Make the oats flour by blitzing the oats in a food processor.
Mix the dry ingredients in a bowl.
Add the wet ingredients into another bowl, mix well. Then gently fold the mixture together. Pour mixture into prepared pan
Bake in pre-heated oven for 25 to 30 mins, until a toothpick inserted comes out clean.
While the brownies are baking, make the chia jam. (Find the recipe below).
Once the brownies are done let it cool completely on a wire rack.
Use a double boiler method and melt the chocolate pieces or melt in the microwave.
Once fully cooled down very carefully slit the brownie in half horizontally, (like you would a cake for icing) set the top half aside.
Apply a generous amount of the wild blueberries chia jam in between
Place the other half on top, trim the edges evenly. Cut the brownies into long bars instead of squares.
Carefully pour the melted dark chocolate on each bar using a spoon. Drizzle white chia seeds on top of each bar.

Blueberries chia jam

Add the frozen wild blueberries into a saucepan and bring to boil on medium heat for about 8 to 10 min stirring in between, the berries leave out all the juices.
After the juices have reduced a little, mash well using a fork.
Add the honey/ maple syrup and lemon juice.
Taste the jam and depending on how sweet you would want, add more sweetener and lemon juice if needed. Simmer for two mins on low heat
Add the whole chia seeds and remove from the heat and let it cool.